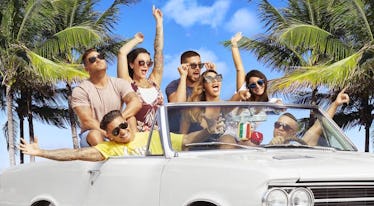 Twitter Exploded During The 'Jersey Shore Family Vacation' Premiere & Fans Loved It
MTV
Cabs are heaaaaa... again!! All of your favorite guidos, guidettes, meatballs, juiceheads, gorillas, and whatever other crazy term the Jersey Shore cast call themselves are back officially back for another round of drunken drama. Over five years since their seminal reality show ended in 2012, the Jersey Shore cast returned to MTV for the reboot series Jersey Shore Family Vacation on Thursday night, and they proved they're as wild as ever. Tweets about Jersey Shore Family Vacation flooded Twitter, as viewers watched Snooki, The Situation, JWoww, DJ Pauly D, Ronnie, Vinny, and Deena bring their signature can't-look-away chaos to Miami.
Jersey Shore Family Vacation kicked off with a bang on Thursday night with an extra-long two-episode premiere. The show saw the Jersey Shore cast reliving their past by getting wasted at a nightclub and completely trashing their new home. The show also brought up a whole lot of old drama — mostly involving Ronnie — which led to explosive fights right off the bat.
But along with all of these familiar antics, the new series also added some new twists to the original Jersey Shore formula. In the original series, everyone was young, single, and hooking up (smushing) all the time, but now Pauly D is the only cast member who is not in a committed relationship. Another major change — The Situation is sober now, and totally changed. While the rest of his housemates down tequila shots, Mike aloofly sips water in the corner of the club and has become the de facto designated driver.
But the biggest change of all is obviously that Sammi Sweetheart is nowhere to be seen... well, unless you count that creepy Sammi-sized doll that Pauly D brought to the house. Obviously, all of these changes and drama led to some great tweets from viewers. Check out some of the best tweets about the Jersey Shore Family Vacation premiere below:
Some of the standout moments from the big premiere definitely seemed to be The Situation's jail-threatening legal battle, Ronnie's various questionable decisions, and of course that creepy Sammi Sweetheart doll, which luckily Deena and Snooki managed to get rid of at the end of the premiere (although I'm not sure throwing it in the pool was the best way to go about that).
Now that Mike is seemingly going to remain low-key this season after two years of sobriety, it looks like all his drama is going to be coming from the courtroom. Mike was actually stalled from arriving at the new shore house for a while due to his ongoing tax fraud and evasion charges, and he shared with his house mates that he might face ten years in prison if sentenced.
With The Situation out of commission as the house villain, it looks like Ronnie will be taking up the mantle this season. Not only does he get into all of the fights in the episode (mostly with Deena and Mike), but he also has to be wary of not cheating on his pregnant girlfriend... even when getting lap dances from three women in the premiere episode.
From all the fan engagement that Jersey Shore Family Vacation received on social media during its premiere on Thursday night, it is clear why MTV felt confident enough in the reunion series to renew it for a second season before the first season even premiered.
The only thing missing from the Family Vacation premiere was Sammi Sweetheart, the only original cast member who declined to be a part of the new show. There has been some speculation from the cast that Sammi might sign on for Season 2, though, so hope is still alive for a complete reunion. I don't know how she is going to feel about that when she sees what her cast mates did to that Sammi doll, though.