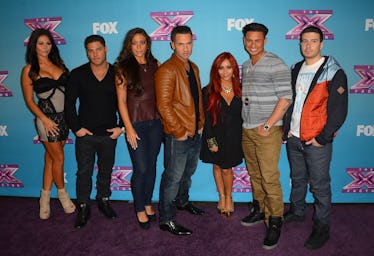 'Jersey Shore Family Vacation' Is Already Getting A Season 2 Before Even Premiering
Frazer Harrison/Getty Images Entertainment/Getty Images
Get ready to party, because Jersey Shore is coming back to MTV in April. The fist-pumping stars are heading to Miami for Jersey Shore Family Reunion, a sequel to the show that first introduced us to cultural icons Mike "The Situation" Sorrentino, Nicole "Snooki" Polizzi, and Paul "DJ Pauly D" Delvecchio. The new installment doesn't premiere until Thursday, Apr. 5, but MTV has already signed on for a Jersey Shore Family Vacation Season 2. Clearly, the network is predicting that the show's OG fans will turn out in droves to check out the revival, and judging by the early hype surrounding the new season, all signs point to MTV being correct.
MTV first announced the Jersey Shore reboot in November during the series premiere of Floribama Shore, a spin-off featuring the southern version of the original guidos and guidettes (if you haven't seen the first season of Floribama Shore it's super worth checking out, but it doesn't hold a candle to the early days of Jersey Shore). Snooki recorded the short teaser and posted it on Twitter, sparking a massive response from fans eager to know what shenanigans she and her former castmates are going to get into in Jersey Shore Family Vacation. But MTV didn't provide any additional details until early February, when they finally told fans that that Season 1 will premiere on Thursday, Apr. 5, now dubbed "Jerzdays." Can we get that on a calendar, or...?
From the various trailers out there, it seems like Jersey Shore Family Reunion will stay true to its roots with a good dose of partying, drunken yelling, and GTL-ing. We'll see all the original Jersey Shore cast members (but not Angelina, because she's loooong gone), including Snooki, JWoww, The Situation, DJ Pauly D, Vinny, Ronnie, and Deena, with one major exception: Sammi Sweetheart, Ronnie's on-again-off-again girlfriend, won't be joining her former roommates down in Miami. Rumors are flying that Sammi doesn't want to deal with her ex's drama, especially now that he's publicly swooning over his current girlfriend, Jen Harley. Snooki set things straight on her podcast, It's Happening With Snooki and Joey:
Everyone's asking why Sammi's not doing it. You have to ask her that. I'm not gonna speak for her. But Sammi is just in such a happy place that I feel like she doesn't want to jump back into that drama if it does happen.
Sammi is also in a new relationship with a dude named Christian Biscardi. The two only started dating around April 2017, but things are serious enough that she brought him as her date to Deena's wedding in October. According to Snooki, Sammi is really happy with Christian, and she's not in the mood to revisit a relationship that ended four years ago.
It took a toll on you. It was very emotional. And being that there was a lot of Ron and Sam drama when we did film, it was just really hard on both of them. So I just think she doesn't want that anymore.
Jersey Shore Family Reunion isn't the first attempt at getting the gang back together, but it's definitely the most successful. In August 2017, E! aired Reunion Road Trip: Return to the Jersey Shore, a special that followed Snooki, JWoww, Pauly D, The Situation, and Sammi on a road trip to their original shore house. Rather than show fans something totally new, Reunion Road Trip was more of a retrospective on their time on the series, and the fact that a few key castmates were missing prevented it from getting a ton of buzz. The second time around, it's likely that MTV learned from E!'s mistakes and lobbied hard to get as many OG cast members as possible to participate in Jersey Shore Family Vacation.
If you're pumped about getting two seasons with your favorite guidos, the excitement doesn't stop there. According to E! News, MTV will also be airing four Road To Vacation specials that combine new interviews with hilarious old footage. The first of these specials will air on March 15, so if you're not too busy with your GTL routine, be sure to check it out.
Jersey Shore Family Reunion premieres Thursday, Apr. 5 at 8 p.m. on MTV.