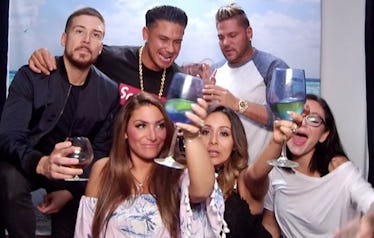 'Jersey Shore Family Vacation' Got A Premiere Date & It's Coming So Soon
MTV
Every once in a while, mortal human beings are blessed with the opportunity to see true magic. The stars align in such a way that gifts us with one, truly perfect divine miracle, and we're all changed for the better forever. This was the case when MTV invented Jersey Shore. I can't explain to you what watching Pauly D gel his hair did for me, but I know it was pivotal in my own personal character development. Now, the gang is getting back together, and I sincerely don't feel worthy. So, when does Jersey Shore Family Vacation premiere? Not soon enough.
I thought the series was kaput for sure after The Situation rammed his head into that cement wall in Italy in 2011. I said my final goodbyes to Snooki's crocodilly, and I made peace with never knowing what Vinny smelled like IRL. Now, here we are, seven whole years later, and this group of kids is somehow not only back in my life, but back on TV in the best way.
The family's headed to Miami for a Jersey Shore reboot, folks, and I'm breaking out my solo cups.
MTV announced fans can expect the Jersey Shore Family Vacation premiere to go down on Thursday, Apr. 5, and you better believe I circled the date on my calendar in sharpie. MTV posted a sneak peek trailer on Twitter, and even though it gives us literally zero information or insight into what happens in the series revival, it got my fists pumping anyway.
Here's what we know for sure: Pauly D's hair hasn't evolved, so that's a relief. Sammi "Sweetheart" Giancola looks like she decided to sit this one out, but who needs a Sam when we can have a Deena? Deena is a f-ing BLAST.
According to an interview Nicole "Snooki" Polizzi did with US Weekly, Sammi is sidelining the series due to old drama with her ex Ronnie Ortiz-Magro. (I can hear her now... "Rahhhn!") God love her.
Snookie said,
Honestly, filming the show, Jersey Shore, back then … it was so crazy. It took a toll on you. It was very emotional. And being that there was a lot of Ron and Sam drama when we did film, it was just really hard on both of them. So I just think she doesn't want that anymore.
Fair enough. Plus, Ron is apparently in love. He told US Weekly he finally found true love with his current girlfriend, Jen Harley. In fact, they're expecting. Ortiz-Magro says, "She [Jen] is the first person I finally really fell in love with. I want to settle down and have a family; she is that person for me."
Dear lord, please let this woman have a cameo on the show.
It's definitely going to be interesting to see what the dynamic is like now that some of the cast members have children or are in serious relationships outside of the series. Snooki has two kids with her husband, Jionni LaValle, whom fans will remember from the show. Jenni "JWOWW" Farley also married Roger Mathews (classic, Roger) from the show, and has two children of her own.
Really, I've always been and always will be in it for Vinny. Vinny Guadagnino always came across as the most level-headed one of the group, if not the most gullible. He also hasn't aged a single day, despite all that tanning.
All I can safely say is Miami better buckle up, because the Jersey Shore cabs are here. Tune in to MTV on Thursday, Apr. 5, for some good ol' fashioned GTL.
Check out the entire Gen Why series and other videos on Facebook and the Bustle app across Apple TV, Roku, and Amazon Fire TV.