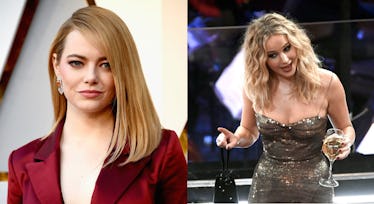 J. Law & Emma Stone Are Sitting Together At The Oscars & Twitter's Excited For Them
Frazer Harrison/Kevin Winter/Getty Images
This year's Academy Awards ceremony is particularly special: Jennifer Lawrence and Emma Stone are at the Oscars, giving longtime fans a chance to finally see their friendship in action as they're sitting next to each other. As a hardcore J. Law-E. Stone fan, I have some pressing questions about what's going down in the Dolby Theatre. What did they think about Jimmy Kimmel's monologue? Are they whispering about the best time to hit the bar? Is Lawrence asking Stone where she got that killer blazer? As it turns out, I'm not alone in freaking out about this amazing seating arrangement, because the internet is abuzz with tweets about Jennifer Lawrence and Emma Stone's best friendship.
Within minutes of the start of Kimmel's monologue, viewers caught their first glimpse of the duo, and let me tell you, it was unreal. After a joke about last year's unforgettable Best Picture flub, the camera cut to Stone, who allowed herself to be the butt of Kimmel's joke. Stone laughed quietly to herself, but suddenly, J. Law, the queen of self-depreciating humor appeared to make fun of her friend with some finger pointing and over the top laughter. Lawrence even slapped her knee at one point, completely loving the opportunity to laugh at Stone.
Immediately, the internet took off with fans freaking out about the genuine celebrity interaction (because everyone loves to think that their favorite celebs are best friends and hang out all the time).
Even fans outside of the United States got in on the fun, because obviously the hilarity of Emma Stone and Jennifer Lawrence's friendship knows no bounds.
The 2018 Oscars aren't the first time that Stone and Lawrence have been super cute in public. In January, Stone posted a video of she and Lawrence hanging out at her house instead of going to the Golden Globes after party they were supposed to go to. As Lawrence explains in the video, she was getting ready for the event when Stone called her up and said, "Let's skip it and hang here instead." And then Lawrence turns to the camera to reveal that she's rocking a single smoky eye, which was all the glam she'd finished before Stone said they should bail on the after party. It's 1) a hilarious reveal, especially because Lawrence deadpans the delivery, and 2) a sweet reminder that these two very famous people are actually real life, genuine pals.
Before Lawrence claimed her seat next to Stone in the theater, the star had a pretty eventful night on the red carpet. Rather than step and repeat her way past photographers on the red carpet, Lawrence gave some super not-so-subtle jazz hands to the crowd of adoring fans. Later, the star fist-pumped her way down the red carpet as fans continued to cheer. I guess that's one way to get through the hundreds of people crowded in front of the theater doors. Clearly, Lawrence is enjoying being freed from her usual nominee responsibilities (not that being nominated isn't awesome, too) and having the chance to let her true/drunk self shine.
Once inside, Lawrence immediately got her hands on a glass of white wine and began schmoozing with the celebs gathered in the theater. I'm totally not surprised that Salma Hayek and Christopher Plummer are among those who get inside the theater early. Lawrence's meandering also inspired one of the best memes of the night: J. Law lifting up her sequined dress to climb over chairs, all while keeping a steady hand on her glass of wine. If that isn't all of us, I don't know what is.
The only thing that could make this year's Oscars better is a shot of Stone and Lawrence at the bar. However, both women have big nights ahead of them — Lawrence is presenting Best Actress, which Stone won last year for La La Land, and Stone is presenting Best Director — so I'm hoping that they won't get too plastered. Or maybe I am. A drunk J. Law presenting Best Actress does sound kind of amazing.