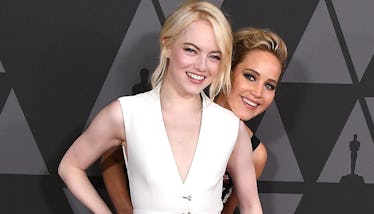 J. Law's Story About Skipping The Golden Globes Because Of Emma Stone Is So Hilarious
Is there any celebrity friendship I love more than Jennifer Lawrence and Emma Stone? No, there is not. They are my favorite celebrity couple of all time and they're not even dating. And they're also close with Adele!! Adele!! Be still, my beating heart. That's why I find this video of Jennifer Lawrence and Emma Stone hanging out after the Golden Globes so freaking funny. Some of you might've wondered: Why wasn't Jennifer Lawrence at the Golden Globes? Well, she wasn't nominated for anything, for starters, so she might've opted out to let other actresses shine. This video taken by Stone at Lawrence's house, however, shows that she actually planned on going to the Golden Globes afterparties as her buddy's date, but then Stone was like, "Nah, let's skip the party and hang at your house instead." (I told you these two were perfect.)
In the video posted on Lawrence's Facebook page, you see Lawrence laughing when Stone asks, "Hey, what happened tonight?" Lawrence responded, "Well, you had told me that you wanted me to be your date to the afterparties, so I, you know, got us some tickets to some afterparties. I booked a car..." Then she deadpans to the camera and says, "and I was halfway through glam when you told me that you didn't want to go." When Lawrence looks at the camera, you see only half of her face has makeup on it. She and Stone lose it, and it's now my favorite video.
Lawrence adds, "You just wanted to come over to my house, so I sent my hair and makeup team home and now this is what I look like." They both crack up and Stone says, "You're the best." They ARE the best! Stone was up for Best Performance by an Actress in a Motion Picture - Musical or Comedy for her portrayal of tennis champ Billie Jean King in Battle of the Sexes. She ended up losing to Saoirse Ronan, who played the titular character in Lady Bird.
Stone, like a majority of the actresses at the Golden Globes, wore all black in solidarity with the Time's Up initiative. Had Lawrence actually gotten the chance to go to the Golden Globes afterparties, she probably would've worn all black too, as she has been affected by sexual harassment in Hollywood in the past. Lawrence has worked with Harvey Weinstein in the past on films like Silver Linings Playbook, which won her her first Oscar. Shortly after the New York Times piece detailing Weinstein's alleged decades-long history of harassing and abusing his female employees, Lawrence spoke at Elle's annual Women in Hollywood event on Oct. 16. In her speech, she told a story of a time early in her career where she was told by a female producer that she needed to lose "15 pounds in two weeks." She said,
When I was much younger and starting out, I was told by producers of a film to lose 15 pounds in two weeks. During this time a female producer had me do a nude line-up with about five women who were much, much, thinner than me. We are stood side-by-side with only tape on covering our privates. After that degrading and humiliating line-up, the female producer told me I should use the naked photos of myself as inspiration for my diet.
One of the best moments of the 2018 Golden Globes was Oprah Winfrey's Cecil B. DeMille Award speech. She stood for the Time's Up movement and talked about racial and gender inequality both in Hollywood and the country as a whole. Back in December, Oprah interviewed Jennifer Lawrence for The Hollywood Reporter. In the interview, they talked about Lawrence's nude photo hack from 2014, her experience with the producer who put her in that nude line-up, and sexual harassment in Hollywood as a whole. Lawrence told Winfrey that she and other women in Hollywood had "talked about forming a commission." That commission very well may be the Time's Up organization.