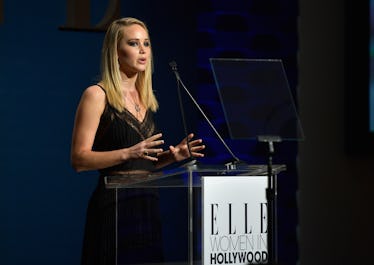 Jennifer Lawrence Reveals A Producer Once Made Her Do A "Nude Line-Up" For A Role
Matt Winkelmeyer/Getty Images Entertainment/Getty Images
Jennifer Lawrence was one of the honorees at Elle's annual Women in Hollywood event on Monday, Oct. 16. During her speech, she told the story of when she was sexually harassed early in her career, revealing she was made to do a "nude line-up" with other women and told she needed to lose 15 pounds in two weeks. Jennifer Lawrence's speech about sexual harassment was heartbreaking but powerful, and helps shine a brighter spotlight onto the issue of sexual harassment and sexual assault in Hollywood. Lawrence said in her speech,
When I was much younger and starting out, I was told by producers of a film to lose 15 pounds in two weeks. During this time a female producer had me do a nude line-up with about five women who were much, much, thinner than me. We are stood side-by-side with only tape on covering our privates. After that degrading and humiliating line-up, the female producer told me I should use the naked photos of myself as inspiration for my diet.
Lawrence did not say which film she was working on when this event happened, but she did say it made her feel "trapped," like she had to just accept the disgusting actions of the producer in order to have a successful career. Still wanting to defend herself, however, Lawrence said she approached a male producer on the film to report the event, but his response was of no help. Lawrence said,
He said he didn't know why everyone thought I was so fat, he thought I was "perfectly f*ckable."
She added, "I let myself be treated a certain way because I felt I had to for my career." Lawrence is one of many women speaking out about sexual harassment and sexual assault in Hollywood and one of thousands of women around the country who have been sharing their personal stories online ever since the allegations against Harvey Weinstein first came to light.
On Oct. 5, The New York Times published a report detailing a decades-long history of Harvey Weinstein allegedly sexually harassing women. The New York Times reported that Weinstein had paid off at least eight women over the course of his career after they accused him of sexual harassment. Weinstein responded to the article in an Oct. 5 statement to the public that said,
I appreciate the way I've behaved with colleagues in the past has caused a lot of pain, and I sincerely apologize for it. Though I'm trying to do better, I know I have a long way to go.
Weinstein's spokeswoman, Sallie Hofmeister, provided the following statement to Elite Daily in response to the accusations:
Any allegations of non-consensual sex are unequivocally denied by Mr. Weinstein. Mr. Weinstein has further confirmed that there were never any acts of retaliation against any women for refusing his advances. Mr. Weinstein obviously can't speak to anonymous allegations, but with respect to any women who have made allegations on the record, Mr. Weinstein believes that all of these relationships were consensual. Mr. Weinstein has begun counseling, has listened to the community and is pursuing a better path. Mr. Weinstein is hoping that, if he makes enough progress, he will be given a second chance.
Lawrence worked with Weinstein in the past on films such as Silver Linings Playbook, which won the actress her first Oscar. In her acceptance speech at the Oscars, Lawrence directly thanked Weinstein, joking, "Harvey, thank you for killing whoever you had to kill to get me up here today." Lawrence responded to the allegations against Weinstein in a statement on Oct. 10 in support of his accusers and condemning his alleged behavior. She said,
I was deeply disturbed to hear the news about Harvey Weinstein's behavior. I worked with Harvey five years ago and I did not experience any form of harassment personally, nor did I know about any of these allegations. This kind of abuse is inexcusable and absolutely upsetting. My heart goes out to all of the women affected by these gross actions. And I want to thank them for their bravery to come forward.
Lawrence's speech at the Elle Women in Hollywood event continued with her saying,
I'm still learning that I don't have to smile when a man makes me uncomfortable. Every human being should have the power to be treated with respect because they're human.
She added, "In all of this sadness, I think it's been oddly unifying. It's so fundamental to the female experience to be mistreated and feel ashamed of it."