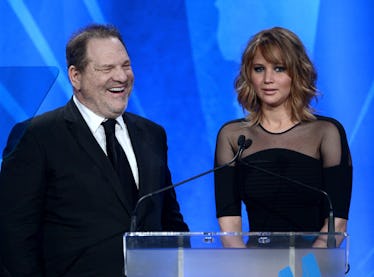 Jennifer Lawrence Responds To Harvey Weinstein Allegations: "I Was Deeply Disturbed"
Kevin Winter/Getty Images Entertainment/Getty Images
It's been an intense week in Hollywood as celebrities have been responding to the sexual harassment allegations that recently came out against producer Harvey Weinstein. Some have felt there could be a larger outcry from men in showbiz, but actress Jennifer Lawrence's response to the Harvey Weinstein allegations is an example of what the people are asking for. The star recently broke her silence to condemn Weinstein's behavior and stand with the women who were allegedly harassed.
On Oct. 5, The New York Times reported that Weinstein, one of the most powerful and influential men in entertainment, was accused of unwanted physical contact and sexual harassment by up to eight women. Reportedly, he reached at least eight settlements to keep the allegations under wraps, which stretched over the course of three decades.
Weinstein responded in a statement that said,
I appreciate the way I've behaved with colleagues in the past has caused a lot of pain, and I sincerely apologize for it. Though I'm trying to do better, I know I have a long way to go..
He added he will be seeing a therapist to deal with his issues "head on." However, Weinstein's attorney, Lisa Bloom, also said in a statement that her client "denies many of the accusations as patently false," and that he "bears [the responsibility]" of his actions. An additional lawyer, Charles Harder, added Weinstein plans to sue The New York Times.
Now, role model and fan favorite actress Jennifer Lawrence is speaking out. She worked with Weinstein in her Oscar award-winning film Silver Linings Playbook, and thanked him directly in her acceptance speech. At the time, she said, "Harvey, thank you for killing whoever you had to kill to get me up here today."
In a statement released by People, it's clear that Lawrence's feelings have shifted. She said,
I was deeply disturbed to hear the news about Harvey Weinstein's behavior. I worked with Harvey five years ago and I did not experience any form of harassment personally, nor did I know about any of these allegations. This kind of abuse is inexcusable and absolutely upsetting.
She added,
My heart goes out to all of the women affected by these gross actions. And I want to thank them for their bravery to come forward.
Elite Daily reached out to Lawrence's team for additional comment, but did not hear back by time of publication.
Lawrence speaks alongside fellow actress and vocal feminist Lena Dunham, who recently released an opinion piece in The New York Times calling out her male Hollywood cohorts for their silence. Dunham wrote,
The reason I am zeroing in on the men is that they have the least to lose and the most power to shift the narrative, and are probably not dealing with the same level of collective and personal trauma around these allegations.
She added this question for her male colleagues:
Are you operating under the assumption that this is very sad but that it is not your problem? It is, unfortunately, all of our problems.
Since the news broke on Oct. 5, The Weinstein Company removed Harvey Weinstein from his position, releasing the following statement, according to Variety:
In light of new information about misconduct by Harvey Weinstein that has emerged in the past few days, the directors of The Weinstein Company — Robert Weinstein, Lance Maerov, Richard Koenigsberg and Tarak Ben Ammar — have determined, and have informed Harvey Weinstein, that his employment with The Weinstein Company is terminated, effective immediately.
Now, the public is standing by and waiting for more input and statements by those who have worked with Weinstein in the past.