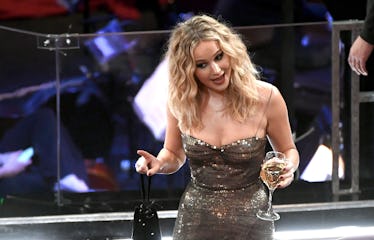 These Videos Of J. Law On The Oscars Red Carpet Will Make You Love Her Even More
Kevin Winter/Getty Images Entertainment/Getty Images
Despite not being nominated for any awards this year, Jennifer Lawerence is still someone that everyone looks out for on an awards show red carpet. While the Oscar award-winning actress has not appeared on every carpet this season, she did come out and make an appearance at this year's 2018 Academy Awards, to everyone's delight. And these videos of Jennifer Lawrence at the 2018 Oscars red carpet will make you love her more — as if you didn't love this gal enough already.
Everyone loves a good J.Law interview. The girl is known to be a relatively loose cannon and free spirit when it comes to any interview — and that's exactly what I love about her. But on March 4 Lawrence made the shocking decision to not address any red carpet interviewers and completely bypass the whole shebang. She literally finished her red-carpet duties in a minute or so, which is pretty unheard of in this day in age of obsessive media consumption.
But just because Lawrence didn't give any red carpet interviews, doesn't mean that she didn't instigate some incredible signature J.Law moments this year. The girl quite literally danced her way through the press junket at the Oscars red carpet this year, choosing not to pose or do anything movie star-like during her appearance.
J.Law bypassed the Oscars red carpet photogs by jazz-handsing her way through the blinding flashing lightbulbs.
And here she is fist-pumping through the red carpet crowd — amazing.
And then once J.Law was inside, she was of course accompanied immediately by a glass of wine. She is officially my personal hero.
So even if we didn't get any great quotes out of J.Law during the pre-Oscars, at least we saw her signature IDGAF attitude that was so clearly present during the red carpet tonight. And to be honest, it's all I ever really needed from her. She is truly a national treasure in my eyes.
J.Law has had an absolutely amazing string of late-night and daytime talk show interviews in the past couple of weeks.
She's been promoting her latest film, the spy thriller Red Sparrow, and when it comes to a major big-budget film, there is always a hefty press tour that comes with it. It's no secret that J.Law absolutely hates going on press tours, so I can't imagine how stressful the experience must be for her. No matter how many movies she's had to promote in the past, having to be charming on camera day in and day out is guaranteed to get a little wearing after awhile.
At the tail end of her talk show tour, J.Law admitted that she tends to drink a lot while on press tours. "It's the only way to make it through," Lawrence said while on The Ellen Show just a couple of days ago on March 2. It's the only way I think most of us make it through, J.Law — once again making her the most relatable actress working in Hollywood today.
Given how stressed she's been, why don't we give J.Law a break with the interviews tonight — the biggest night of the year for Hollywood's elite. It's a time to enjoy all the work that's been accomplished over the past year, and not be a stressful time full of pressure to interview with countless media outlets. So it's OK that J.Law didn't give any interviews this year, and I for one won't punish her for it. I mean, it's not like she's up for any awards this year, so what's the point? Let her live her best life, people — glass of wine in hand and all.