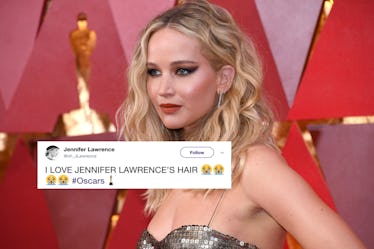 Jennifer Lawrence's Oscar Look Is Pure Fire & Twitter Can't Get Over This Part
Kevork Djansezian/Getty Images Entertainment/Getty Images
Everyone has their red carpet favorites. Whether for their fashion choices, unfiltered interviews, or the opportunity to see them on stage presenting or accepting coveted awards that night. I personally tune in to see one particular person for all of the above: Jennifer Lawrence. And this year, Jennifer Lawrence's 2018 Oscars look is exactly why I keep my eyes on the stunning starlet.
Last year, I did not have the pleasure of gawking over her Oscars look — in fact, none of us did. Why? Because instead of walking the red carpet with her peers in yet another winning look, she skipped one of the biggest nights in Hollywood all together. Though my night of watching the red-carpet was less than eventful sans my favorite leading lady, she got a pass because she was off filming her new movie Red Sparrow. And it's a good thing she did, because the spy film is already killing it at the box office.
And now, in addition to the box office, The Red Sparrow star is 100 percent killing it on the red carpet in a sparkling Dior gown from their Pre-Fall collection:
The pewter-colored, sequined-covered dress features a fitted bodice almost reminiscent of a piece of armor, and the warrior vibes Lawrence is giving off with this look are sky-high. And it makes sense: Lawrence, in addition to all the female celebs gracing us on the red carpet, are the female warriors in Hollywood we all need.
According to Vogue, Lawrence's dress at the Oscars has a deeper feminist meaning. Aside from the dress making her look like a badass female warrior, in a particularly tumultuous time for women, the dress was designed by one of the only female creatives at Dior, Maria Grazia Chiuri.
Lawrence's beauty look was more on the dramatic side and fierce as ever. Featuring a gold-toned smoky eye, with darker eyeshadow wings and a darker orange-red lip, Lawrence certainly kept consistent with the warrior theme.
In addition to her stunning dress, Lawrence stepped onto the carpet with her hair parted in the middle and a head full of voluminous waves. It seems Twitter can't get over J-Law's hair. And, I mean, it's easy to see why. It looks freaking gorgeous:
Two years ago, Lawrence was nominated for Best Actress for her role in the 2015 drama Joy. Though she didn't take home the coveted Oscar, she slayed in a black Dior Haute Couture gown with a barely-there bodice, exposed seams, and layers and layers of delicate lace cascading from her waistline, down to the red carpet. Fun fact: She had the design modified from a mid-length cocktail dress to a gown fit for the most glamorous night in Hollywood by layering a longer slip under her LBD. I love a girl who is not only scrappy, but knows what she wants and how to get it.
It's clear the actress is a fan of Dior, as she has chosen to wear the designer multiple times in the past. Though, I'm not sure it brings her the best luck. Remember the orangey-red peplum gown she paired with a backward diamond necklace? Lawrence looked incredible, but she tripped on it and hit the ground mere seconds into walking the Oscars red carpet in 2014.
And who can forget the time Jennifer Lawrence took to the stage in her massive pink and white Dior gown to accept her 2013 Oscar award for best actress in The Independent. It's the moment every actor dreams of, and Lawrence tripped and fell as she walked up the stairs for her time in the spotlight. Luckily for her, she used her endearing qualities and lovable personality to win everybody over. Though the fall seen around the world was the talk of the show, she gracefully shrugged it off and taught us the lesson that it's OK to laugh at yourself before you proceed to get your shine on. Yassss, queen!
This Oscars Sunday, I'm sending my girl Jennifer Lawrence good vibes, not that she needs it, though. She's stunning in that beautiful sequined gown.
Check out the "Best of Elite Daily" stream in the Bustle App for more stories just like this!