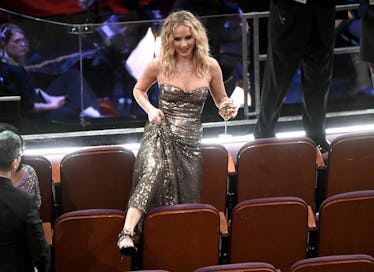 These Memes About The 2018 Oscars Are Viral Perfection
Kevin Winter/Getty Images Entertainment/Getty Images
Apart from the actual winners themselves, the hilarious memes that emerge out of awards ceremonies are the best part of the night. Sunday's Academy Awards ceremony proved to be no exception, as witty social media fans hopped online within seconds of the show starting to create amazing memes about the Oscars that will leave you laughing all year long. The Oscars are about honoring art, right? Well, there's no denying that the memes taking over social media right now are true art.
After a night of memorable performances, surprise wins, and amazingly hilarious celebrity reaction shots, it's no surprise that the memes from the Oscars are on point. I mean, the Academy is basically asking for it. If you gather hundreds of celebs in one room, feed them only light appetizers, and give them unlimited alcohol, something crazy is bound to happen. It's just a matter of which camera man will capture it. And of course, all of this silliness is just so much more fun when it includes those dazzling dresses, velvet suit jackets, and pounds of jewels.
Here are a few memes that are well on their way to being all-time classics.
Tiffany Haddish paying proper respect to Queen Meryl Streep.
Jennifer Lawrence living her best life before the big show.
The Academy is not messing around with their envelopes this year.
Laura Dern said "Congratulations, buddy" to Greta Gerwig and in that moment, we were infinite.
Meryl Streep bippity-bippity-booped her way through the Oscars.
Tiffany Haddish and Maya Rudolph sealed the deal to be next year's Oscar hosts.
The first meme of the the Oscars didn't even wait for celebs to hit the red carpet: it came on Jan. 23, the day that the Oscar nominations were announced. There were a few big shockers on nomination day — um, where is Patty Jenkins' nom for Wonder Woman? — but nothing was as surprising as The Boss Baby, Alec Baldwin's critically-panned film, getting a Best Animated Feature nod. Naturally, the internet came through to express its shock that something likeThe Boss Baby will be standing next to hits like Coco and Ferdinand at the Oscars.
The memes that emerged about The Boss Baby may have been particularly negative, but not every meme on Oscars nomination day expressed disappointment. In fact, most social media users were super excited that their favorite films and actors had finally been nominated. The year 2018 was a watershed year for diversity in the Academy's nominations — Rachel Morrison became the first woman nominated for Best Cinematography in the Oscars' 90-year history, Jordan Peele was the fifth African American nominated for Best Director, and Greta Gerwig was the fifth woman nominated for Best Director, among other great moments — and many memes about the nominations and the show itself reflected that.
At the Golden Globes in January, the memes took a backseat to a larger cause: the Time's Up movement. Actors and actresses wore all black to support the initiative that aims to end workplace sexual harassment and assault. For many celebrities, especially women who had experienced unfair and illegal hiring practices, the all-black Golden Globes symbolized an opportunity to come together in support of a cause that affects all of us, male or female, actor or not. However, you may have noticed that on Oscar Sunday, March 4, celebs were wearing gowns and tuxes of all colors, not just black. According to the Los Angeles Times, this year's attendees "made a conscious choice to 'stand down'" for the Oscars, shifting focus back to the films nominated. Filmmaker Ava DuVernay explained the decision, saying that Time's Up is "not an awards show protest group, so we stand down this time."
But just because the women of Hollywood chose not to wear black at the Oscars doesn't mean that they're done fighting for equality. As Time's Up member Shonda Rhimes reminded the Los Angeles Times, "It's really important that you know that Time's Up is not about the red carpet." She continued, "Those women you saw on the red carpet representing Time's Up [at the Globes] are now off the red carpet working their butts off being activists." The women of Time's Up aren't going anywhere any time soon, and if that means I have to live with a few less memes, so be it.
The memes about this year's Oscars ceremony are totally hilarious, but let's not forget that it takes a lot more than a sense of humor to change history.