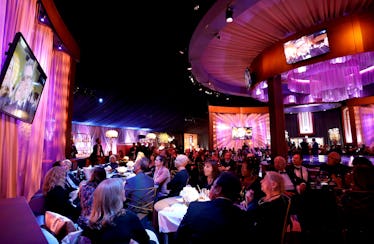 These Memes About The Golden Globes Will Make You Laugh So Hard
Rachel Murray/Getty Images Entertainment/Getty Images
I am an award show freak — I don't care if it's the Golden Globes, Oscars, or People's Choice, you better believe I will be hunkered down in front of my television watching. If your roommates, significant other, cat, or whomever you share your home with can't get on board, there's one thing that brings literally everyone together — memes. Searching through Twitter for the best 2018 Golden Globes memes will honestly give you life and add a fun element for those not as interested in what Kit Harrington has to say while presenting.
This year's Golden Globes was especially meme-worthy. What sets the show apart from your SAG, Grammys, or Oscars is that the Golden Globes is considered a sit-down dinner as opposed to your standard presenter-style award show. It's painstakingly scheduled and they seldom go over the three hour time-slot by more than a few minutes. This is good in the meme-verse because it leads to people getting rushed off stage, awkward timing problems, and some amazing audience reactions. Needless to say, Twitter was watching very closely (as always) and produced some top-quality memes as a result.
Half the fun of award shows are the memes that result from the live event — Chrissy Teigen's crying face and Jennifer Lawrence falling are just a few iconic memories. Below are a few memes that are sure to become instant classics.
The Stranger Things cast is all of us when disappointment hits.
Zac Efron posing harder than anyone has ever posed.
People's rage memes over their category were actually great.
The list of presenters was next level and people took notice.
The iconic moment when Tommy Wiseau joined James Franco on stage.
Amy Poehler standing up for herself (and all women).
Oprah being queen and making literally everyone on stage a little nervous.
Sebastian Stan being adorable while Allison Janney thanked him.
When Kelly Clarkson and Steve Carell finally met after all these years.
When Natalie Portman was brutally honest.
When the show came to a close.
On a more serious note, the biggest topic surrounding the Golden Globes was the Time's Up initiative. All the women donned black gowns in unity to support the cause. On Jan. 1, 2018, 300 actresses in Hollywood announced their official support for the initiative and legal defense fund. It's an important cause that helps women in all industries combat workplace sexual harassment and intimidation.
While everyone wearing a black dress may not seem like a big stretch for the cause, the Hollywood elite were here to explain that it's actually a very big show of support.
Rosario Dawson posted her support on Instagram and shed some light on the symbolism behind wearing black. She said wearing black symbolizes,
That the death knell has struck on abusive power and that it's time to celebrate each other ... our storytellers who have bravely come forward and courageously shared their personal stories, which have liberated so many of us.
Eva Longoria was also quick to explain that wearing black was "not a fashion statement," but actually the complete opposite. She told Entertainment Tonight, "This time the industry can't expect us to go up and twirl around."
Time's Up definitely put an important topic into the spotlight, a first for award shows. Hopefully, all the exposure will help to bring awareness, funding, and help to such a crucial cause.
Golden Globes memes are amazingly hilarious, but it's great that there was a bigger underlying cause. Let's have 2018 be the year of growth and change.
Check out the entire Gen Why series and other videos on Facebook and the Bustle app across Apple TV, Roku, and Amazon Fire TV.