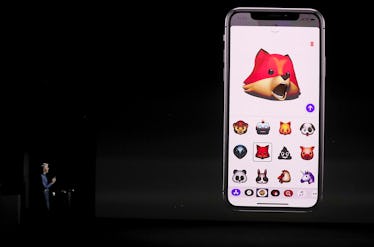 Apple's iPhone X Is Finally Here & Twitter Can't Handle All The Sweet New Features
Justin Sullivan/Getty Images News/Getty Images
Today is the day. People are lined up outside of Apple stores, countdowns have ticked down to zero, and there is a good chance that anxious preorder customers won't take their eyes off of their tracking numbers all day. That's right, Apple's iPhone X is finally here. As with most big events in 2017, Twitter is the best place to go to see how people are feeling about it. Today is no different, and these tweets about the iPhone X indicate there are almost too many awesome new features to handle.
If you've been keeping up with Apple's announcements regarding the iPhone X, then you know that its release is bringing more updates to an iPhone in one go than ever before. For starters, Apple got rid of the Touch ID and the home button on the iPhone X in favor of an OLED screen and Face ID. The sleek look of the iPhone X comes from its all-glass design. Aesthetics are not the only thing this part of the upgrade is good for, though. The glass back on the iPhone X will allow you to juice up your phone without searching everywhere for your lightening cord.
Yep, the iPhone X has wireless charging, and according to the Apple website, you can charge your battery all the way up to 50 percent in just 30 minutes (depending on the charger, that is).
Oh, and you know those emojis that you use all day, every day? Well, now you can personalize them using the same facial recognition technology that you'll be opening your iPhone X with when you use Face ID. Animojis are basically emojis on steroids (in the best way). You create Animojis by using the front-facing camera, and it records your facial expressions so they can be applied to your favorite emojis.
If this sounds like a lot of tech upgrades to you, you're not alone. Take a look at these tweets about how the super-upgraded iPhone X is blowing their minds.
The Face ID feature is apparently "very, very" impressive.
OLED will change you.
Face ID seems to be catching on quite nicely.
I'm thinking I should just get the iPhone for the Face ID feature now.
Unlocking your phone with just your face does sound magical.
Testing, testing. Yep, the camera captures adorable very well.
No notch problems here. Oh, and the camera is "LIT!"
Looks picture perfect to me.
"Freaking brilliant." And that's when it's not even put together.
People are here for the Animojis.
The camera is getting a lot of love.
There is good reason, too. If you've gotten your hands on an iPhone X, here are some tips for you to totally nail all of your Portrait Mode pictures.
The Portrait Lighting feature on the iPhone X will bring new dimension to your pictures thanks to five new lighting modes.
Natural Light is perfect for focusing on your subject, while blurring the background.
Studio Light will make sure that your subject's face is brightly lit, giving you a "clean" look.
Contour Light will focus in on highlights and lowlights with dramatic shadows.
Stage Light will make your subject's faces spotlit against a black background.
Stage Light Mono will do the same as Stage Light, but you'll get that film noir feel since it's in black-and-white.
I'm not quite sure what "fluidity of interactions" means, but it sounds like something you'd want.
"Fresh?" I like fresh.
If these iPhone X reactions are any indication, then this tenth anniversary version of the iPhone is definitely worth the wait (and the price tag).
Check out the entire Gen Why series and other videos on Facebook and the Bustle app across Apple TV, Roku, and Amazon Fire TV.