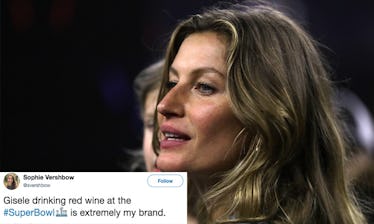 Twitter Can't Get Over Gisele Drinking Wine At The Super Bowl & I'm LOLing
Ronald Martinez/Getty Images Sport/Getty Images
Gisele Bündchen is officially the world's most relatable supermodel millionaire married to a hot, famous quarterback. While her husband was all riled up about the big game, she sat casually with her daughter, looking a little over it, drinking red wine out of a stemless glass. Tweets about Gisele drinking wine during the Super Bowl prove that she's literally all of us — just a girl who wants a good drink on a chill Sunday night.
See, during the third quarter of Super Bowl LII between the New England Patriots and the Philadelphia Eagles, the camera panned over to Bündchen sitting on the sidelines with her five-year-old daughter Vivian. While beer might be the traditional drink of choice while watching the big game, she opted for a glass of red wine. And for a lot of people — especially, say, women on Twitter who feel less-than-enthused about watching Super Bowl and just want to drink their red wine in relative peace — that shot struck a chord.
It became an instant meme. "Mrs. Brady" (as the announcers call her, despite the fact that Brady is not her last name, and that she's a world-famous household name in her own right... gotta love the patriarchy!) is all of us.
People loved watching Bündchen drinking wine.
A lot of people felt the moment was really relatable.
Others found the moment aspirational.
At least two people wanted to make sure that Gisele wouldn't run out of wine...which is a very valid concern, given how long this game runs!
This person felt that Gisele's indulgence in a glass of wine was literally the highlight of the entire game. (I'm not sure she's wrong.)
Bündchen and Brady famously adhere to a strict diet called the 80/20 diet. As their personal chef, Allen Campbell, told Boston.com:
"Eighty percent of what they eat is vegetables... If it's not organic, I don't use it. And whole grains: brown rice, quinoa, millet beans... The other 20 percent is lean meats: grass-fed organic steak, duck every now and then, and chicken. As for fish, I mostly cook wild salmon."
Given their ultra-healthy meal plan, can Gisele even drink wine? It doesn't sound like that regimen leaves much room for fruit, sugar, or alcohol. Wine might be a no-no.
Well, obviously, that's not the case. She can do whatever she wants. But a December 2011 interview with British Vogue might reveal more of her attitudes toward alcohol.
"Well, Tom, he doesn't drink at all, so what am I going to do, have a glass of wine by myself?" she told the magazine.
Apparently on special occasions, the answer is yes! And that's totally fine. Couples don't have to do everything together.
Brady's teammate, Rob Gronkowski, recently turned toward a Brady-inspired diet in order to keep him at the top of his game for longer (the legendary quarterback is 40 years old — more than a decade older than the average football player). The Gronk wasn't ready to give up alcohol entirely, though, so he adopted an alternative plan that allowed him to drink in moderation. According to the Boston Herald, Gronkowski drinks three glasses of water to offset every single alcohol beverage. While Bündchen hasn't publicly discussed her own alcohol intake, it's possible that she drinks in moderation and offsets her consumption with water. It's certainly a healthier way to drink.
There's no word on what kind of red wine Bündchen was enjoying above the crowds tonight in Minneapolis (a fruit-forward Pinot Noir? a rich Cabernet Sauvignon? a spicy Montepulciano D'Abbruzo?), but whatever it was, hopefully she enjoyed it. Twitter certainly did!