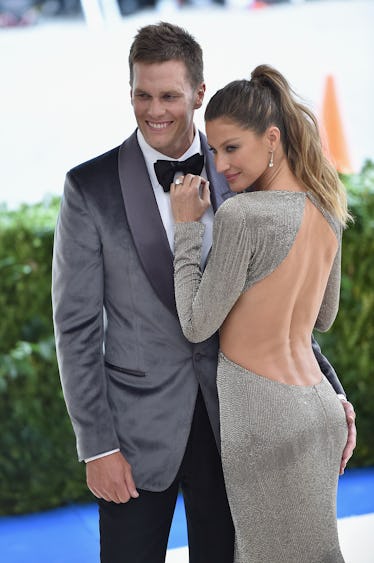 Tom Brady & Gisele Bündchen's Diet Is So Strict, But Here's Why They Follow It
Theo Wargo/Getty Images Entertainment/Getty Images
The Super Bowl is on Sunday, Feb. 4, and (surprise) the Patriots are headlining the big game, so, naturally, the spotlight is shining blindingly bright on five-time Lombardi Trophy winner, Tom Brady. As impressive (and controversial) as Brady is on the field, his behaviors outside the stadium have piqued a lot of intrigue. Even NFL fans rooting against the Pats have questions about the seemingly immortal quarter back, like why Tom Brady and Gisele Bündchen's diet is so strict. Still, the two of them obviously have enough energy to be some of — if not the most — successful names in their industries. Clearly, going to what others might perceive as "extreme" measures to stay healthy is working for them.
All rivalries aside, though, I like to think I'm the type of woman who can give credit where credit is due, especially when it comes to leading a healthy lifestyle. Having said that, let's put things into perspective for a second. Tom Brady was born in 1977, making him an even 40 years old. According to ESPN, the average professional football player retires around 30 years old. Taking that 10-year gap into consideration, Brady is still throwing perfect country miles and cruising through championship games, without so much as a runny nose. I'd be dumbfounded if he were to bow out within the next two years, granted he doesn't get injured.
Brady's 37-year-old Brazilian model wife retired from the runway in 2015, and has followed a plant-based diet for the past 10 years. Obviously how someone chooses to eat is an entirely personal decision, and if following as strict of a diet as this couple does works for them, great! But, I'm just saying, after years of dieting and intense workout schedules, I think one of Forbe's highest-earning models deserves a little indulgence, don't you agree?
According to Boston.com, Tom Brady and Gisele Bündchen follow an 80/20 diet.
In a tell-all interview with the Boston.com, Brady and Bündchen's personal chef, Allen Campbell, revealed everything from where he goes grocery shopping to what he does, and certainly does not, serve up for the family of five. Campbell's philosophy, he says, is to make "conscious decisions" with his food, like buying local and organic options, avoiding GMOs, and to always be thinking about "the future of the planet and the future of humans." This, he says, is why he focuses on plant-based diets.
"80 percent of what they eat is vegetables," Campbell told Boston.com. "If it's not organic, I don't use it. And whole grains: brown rice, quinoa, millet, beans.
The other 20 percent is lean meats: grass-fed organic steak, duck every now and then, and chicken. As for fish, I mostly cook wild salmon."
Sounds pretty tasty to me. But there's a catch (there's always a catch).
What can't this power couple eat?
If I've learned anything from becoming plant-based, it's to focus on everything you're gaining, rather than what you are eliminating. Campbell's menu doesn't sound restrictive when he discusses all the foods Brady and Bündchen can eat, but as he goes on to list all the ingredients he doesn't use, that's when it starts to feel a bit extreme.
Things like white sugar, white flour, MSG, and olive oil are banned from Campbell's kitchen. He only uses Himalayan pink salt as a source of sodium, and has eliminated caffeine, dairy, and fungus from their diets.
And if you think that's limited, Brady's individual regimen is even more restrictive. He prefers eliminating all night shades (aka vegetables like tomatoes, peppers, mushrooms, and eggplant that are not anti-inflammatory) from his diet, as well as all fruits except bananas for smoothies.
Even though the footballer's regimen is stricter than the rest of the family's, Bundchen says she's the reason Brady's on board.
In a 2017 interview with CBS This Morning, she told Charlie Rose that her family's plant-based diet is a result of her influence.
"At the beginning," Bündchen told Rose," it was a little different [for Brady], but now he loves it and says he wouldn't have it any other way because he feels better."
Die-hard Cowboys fan that I am, it pains me to say this, but I can totally relate to Brady's change of heart, here. Contrary to what people may think, it was actually my husband's idea to go plant-based. Like Brady, I wasn't sure about the transition at first either; giving up my favorite foods like Applebee's boneless wings and bacon on Sunday mornings seemed impossible. Once I gave up animal meat, though, and started eating an abundance of fresh fruit and vegetables on a daily basis, I felt better both mentally and physically.
For the record, Bündchen isn't taking credit for her husband's lucrative success in the NFL, although Brady has attributed his success to his healthy lifestyle. She may not be responsible for the plays he makes on the field, but when you consider all the benefits of a plant-based diet, I'd definitely go as far to say she deserves some credit.
As an outsider looking in, Brady and Bündchen's diet definitely can seem stiff, but if it makes them feel good, I say live and let live. As Brady told Business Insider, "your body is your asset," and that means figuring out what fuels and keeps your system thriving. This isn't to say you should drop that chicken wing and only eat tofu from here on out, but they're certainly an example of what eating more of the good stuff can do for you. In other words, don't knock it until you've tried it.