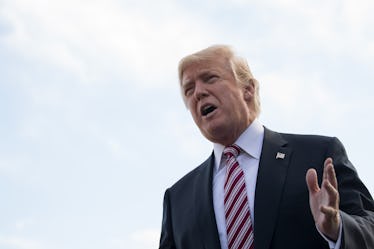 Donald Trump's Speech About The Las Vegas Shooting Had People Shocked
Drew Angerer/Getty Images News/Getty Images
In the wake of the horrific tragedy in Las Vegas, Nevada, on Oct. 1 — which is now considered the worst mass shooting in modern American history — President Donald Trump addressed a nation in mourning. On Monday, Oct. 2, he assured the country that "our bonds cannot be broken by violence" during a press conference. Tweets about Donald Trump's Las Vegas shooting speech have begun to surface, and people definitely have a lot to say.
President Trump took a religious route during his speech and said,
Scripture teaches us the Lord is close to the broken hearted and saves those who are crushed in spirit. We seek comfort in those words, for we know that God lives in the hearts of those who grieve.
He offered prayers and a speedy recovery for those who have been injured. He continued,
To the wounded who are now recovering in hospitals, we are praying for full and speedy recovery and pledge to you our support from this day forward.
The president did not call this an act of terror — something that has caused a stir on social media — and he did not release any updated information about the event. As of Oct. 2, the gunman who shot concertgoers from the 32nd floor of the Mandalay Bay Resort and Casino was identified by Nevada police, so the president was not expected to reveal any new details. What he did say, however, caused quite a reaction.
Some people were not pleased with the president's speech about the tragedy.
Others were curious why he referred to this as "an act of evil" but not "an act of terror."
#GunControl began trending on Twitter.
Then there were those who stood by the president.
The shooter, who law enforcement identified as a Nevada local and who has been fatally shot, opened fire from the 32nd floor of his room at the Mandalay Bay Resort and Casino. The attack began around 10 p.m. PT during Jason Aldean's performance at the Route 91 Harvest festival. These actions ultimately took the lives of at least 59 people and injured at least 515 more. Roughly 30,000 people were in attendance.
Many took to social media to offer their condolences, including politicians. Trump posted a tweet to his public Twitter account on Oct. 1, which directed his "warmest condolences and sympathies" to all those affected by the tragedy. His message reads, "My warmest condolences and sympathies to the victims and families of the terrible Las Vegas shooting. God bless you!"
However, regardless of race or political affiliation, people do agree that the scene was horrific. Concertgoer Meghan Kearney spoke to MSNBC about the tragedy and how it unfolded. She said,
We heard what sounded like firecrackers going off. Then all of a sudden we heard what sounded like a machine gun. People started screaming that they were hit. When we started running out there were probably a couple hundred [people] on the ground.
Footage from the event is difficult to watch. A video shows the sound of automatic gunfire during the concert, followed by fans trying to take cover. There appeared to be at least three bursts of gunfire, per The New York Times. SWAT teams immediately headed to Mandalay Bay after reports of the attack emerged. Festival-goer Rachel De Kerf told CNN she believed the gunshots lasted for 10 to 15 minutes. Monique Dumas, De Kerf's sister, recounted the events to CNN, saying,
The band was rushed off the stage, the floodlights came on the crowd, and you see on the right hand of the stage the person who was injured, so they're calling for medics, calling for security, then there was gunfire again.
This is certainly not the news any of us wanted to wake up to. Our condolences go out to all those who were affected. If you're looking to help victims, click here.