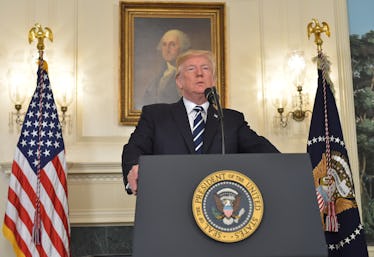 Trump's Vegas Speech Full Transcript Addressed Support For Victims & Unity
MANDEL NGAN/AFP/Getty Images
On Oct. 1, Sunday night, a single gunman opened fire on a country music concert in Las Vegas, killing more than 50 people and injuring more than 400. It is being called the deadliest mass shooting in United States history, and after posting a tweet the morning of Oct. 2, President Trump addressed the nation and gave updates on the tragic incident in Las Vegas. The transcript of Trump's Vegas speech revealed a heartfelt message of unity, and Trump described the situation as "evil."
Update: Las Vegas Police Department Sheriff Joe Lombardo has confirmed that at least 58 people were killed and over 515 were injured in the shooting. The shooter has also been confirmed dead and is not believed to have a connection to any terrorist group.
Earlier: Earlier in the day, Trump tweeted his "warmest condolences and sympathies" for those affected by the tragedy in Las Vegas, and White House press secretary Sarah Huckabee Sanders confirmed the president had been fully briefed on the incident early Monday morning. As of Monday morning, the gunman who shot concert goers from the 32nd floor of the Mandalay Bay hotel has been identified by Nevada police, so Trump was not expected to reveal any new information that news outlets weren't already reporting during this press conference.
Trump is already coming under criticism for quoting scripture in his speech. Most presidents, including former President Barack Obama, address God in moments of crisis to the American public, but Trump's quoting of Bible scripture seems to direct prayer and recovery from this incident to Christianity, which, as we know, is not the religion of every American citizen.
Trump said in the address,
Scripture teaches us the Lord is close to the broken hearted and saves those who are crushed in spirit. We seek comfort in those words, for we know that God lives in the hearts of those who grieve.
Trump continued,
To the wounded who are now recovering in hospitals, we are praying for full and speedy recovery and pledge to you our support from this day forward.
Trump also announced that in light of the recent tragedy, the White House flag would be flown at half staff. He also announced that he would be headed to Las Vegas on Wednesday and is still expected to keep his plans to travel to Puerto Rico to assess hurricane relief tomorrow.
Before Trump addressed the crowd with scripture, he commended first responders at their speedy action to stopping the shooter who was hid away in his hotel.
Trump said,
I want to thank the Las Vegas metropolitan police department, and all of the first responders for their courageous efforts and for helping to save the lives of so many. The speed with which they acted is miraculous and prevented further loss of life.
To have found the shooter so quickly after first shots were fired is something for which we will always be thankful and grateful. It shows what true professionalism is all about.
There is no doubt that law enforcement acted quickly and swiftly to take action at the Mandalay Bay hotel, and Trump made sure to thank all of those involved with protecting victims and assisting in saving lives.
Trump then called on unity from the American people, and reminded the country that ultimately, Americans cannot be broken by evil and will come together in times of tragedy. Trump said,
We call upon the bonds of citizenship, the ties of community, and the comfort of our common humanity. Our unity cannot be shattered by evil; our bonds cannot be broken by violence. And though we feel such great anger at the senseless murder of fellow citizens, it is our love that defines us today and always will forever.
Trump ended his address without mentioning gun control — or what his Wednesday visit to Las Vegas might entail (besides meeting with victims and law enforcement) — but rather provided an additional vague offer of hope.
In times such as these, I know we are searching for some kind of meaning in the chaos some kind of light in the darkness the answers do not come easy. But we can take solace knowing that even the darkest space can be brightened by a single light, and even the most terrible despair can be illuminated by a single ray of hope.
Trump also said he and Melania are praying for all of the victims affected by this tragedy, and called this incident "an act of pure evil." The shooter has not been suspected to be linked with overseas terrorism, and Trump has not called this incident a domestic terror attack.