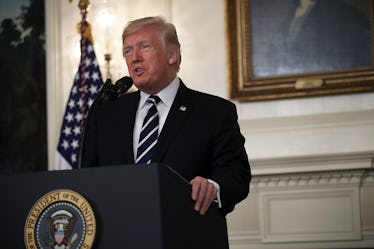 Trump's Las Vegas Shooting Speech Addressed…
Alex Wong/Getty Images News/Getty Images
Following a mass shooting in Las Vegas, Nevada, Sunday night, President Donald Trump addressed religion but not gun control in a speech on Monday, Oct. 2. This was the second speech in which he was tasked with responding to a mass shooting while in office. After his remarks, the president is enduring criticism for what he chose to say — and not say — in the fraught moment of a nation on edge.
Update: Las Vegas Police Department Sheriff Joe Lombardo has confirmed that at least 58 people were killed and over 515 were injured in the shooting. The shooter has also been confirmed dead and is not believed to have a connection to any terrorist group.
Earlier: His speech came as people nationwide were reeling from the news. Sunday's attack left 50 people dead and at least 400 injured after a shooter opened fire on concertgoers from a hotel room at Mandalay Bay Resort and Casino, making it the deadliest mass shooting in modern American history.
Numerous publications published a complete transcript of the president's Monday comments. While Trump referenced the Bible and God multiple times throughout his speech, nothing was mentioned about gun control or how to prevent future shootings. In his speech, Trump said,
Scripture teaches us the Lord is close to the brokenhearted and saves those who are crushed in spirit. We seek comfort in those words, for we know that God lives in the hearts of those who grieve.
In addition to referencing scripture, the president made references to citizenship, saying,
We call upon the bonds that unite us, our faith, our family, and our shared values. We call upon the bonds of citizenship, the ties of community, and the comfort of our common humanity.
Rather than mention specific actions that are being done or that could be done to address mass shootings, Trump focused squarely on philosophical, vaguely religious themes, like the following:
In times such as these, I know we are searching for some kind of meaning in the chaos, some kind of light in the darkness. The answers do not come easy. But we can take solace knowing that even the darkest space can be brightened by a single light and even the most terrible despair can be illuminated by a single ray of hope.
We pray for the entire nation to find unity and peace, and we pray for the day when evil is banished and the innocent are safe from hatred and from fear.
These responses to the tragedy stand in stark contrast to the speeches Trump's predecessor, Barack Obama, gave while in office.
Trump's avoidance of the topic of gun control speaks volumes, especially given his recent support for gun rights. In April, he spoke at a National Rifle Association (NRA) gathering, promising them his support while in office, saying that the "assault" on the Second Amendment was over. In February, the president also signed a bill revoking an Obama-era policy that placed mental illness checks on prospective gun buyers.
But Trump's recent gun rights statements contradict his previous remarks on the topic. As Newsweek points out, back when President Barack Obama was in office, Trump tweeted his approval of Obama's speech following the shooting in Newtown, Connecticut, in which the president called for tightening gun controls. His 2012 tweet read,
President Obama spoke for me and every American in his remarks in #Newtown Connecticut.
In fact, Obama had to give at least 17 such speeches following mass shootings on American soil during his time in office. Many of his remarks called for action with stricter gun laws and common-sense policies to avoid future tragedies like the one that struck Las Vegas on Sunday.
In response to Trump's statement, some showered praise, while others criticized him for not leveraging his influence at a critical moment, as his predecessor often did.
Others pointed out the same thing, with some calling it an omission.
We'll have to wait and see if the president responds to those calling for dialogue about gun restrictions.