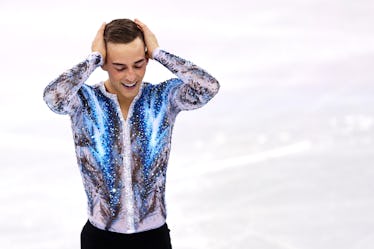 Adam Rippon's Short Program Has Twitter Cheering So Hard & It's Everything
Maddie Meyer/Getty Images Sport/Getty Images
It's official: we're all in love with Adam Rippon. The figure skater may have won bronze so far while competing in the 2018 Winter Olympics, but he's first place in our hearts. As the Olympian gears up to wow us on the ice once again, these tweets about Adam Rippon's short program routine prove that we just cannot get enough of this guy.
Though he stumbled his way through the Olympic qualifiers in San Jose, California, his performance was enough to score him a space on the U.S Olympic figure skating team, and we're so #blessed that he did. We've been gifted with a true American treasure.
Rippon's short program routine song is "Let Me Think About It" by Ida Carr and Feddele Grande. He's clearly a big fan of the tune, since he performed to this very song during the 2018 U.S. Figure Skating National Championships in January. Who wouldn't love this song? Its funky, upbeat tune is much like Rippon's bubbly and sassy personality, which we're clearly all obsessed with.
Twitter has been blowing up with their love of the Olympian figure skating since his iconic debut.
And his short program routine is clearly only fueling the flame. Before it even started, people were so excited.
So of course the minute Rippon stepped onto that ice, Twitter went off.
That amazing red-and-glitter outfit, combined with the sheer sass of his performance, made everyone cheer.
Oh, and did I mention that Rippon's score of 87.95 put him in the lead? I am living. (Sadly, the lead was quickly snatched away by Russian athlete Dmitriy Aliev, who followed him and won a 98.98 from the judges.)
Still, this being Rippon's first time competing in the Winter Olympics, it's safe to say that he's totally crushing it. During his Olympic debut on Feb. 11, Rippon performed his free skate routine to Coldplay's "O," and left the crowd speechless at his grace and skill, leading to Team USA winning the bronze medal.
Not only is he securing himself as an Olympian icon, but he's also representing LGBTQ+ community as the first openly gay male figure skater to compete in the Winter Olympics.
In response to an interview question asking what it was like to be an openly gay athlete, Rippon tweeted this powerful response.
I was recently asked in an interview what its like to be a gay athlete in sports. I said that it's exactly like being a straight athlete. Lots of hard work but usually done with better eye brows.
This is just one of many incredible tweets courtesy of Rippon. Seriously, I could spend hours looking at this man's Twitter page.
Rippon's widely-loved reception has inspired many young athletes and members of the LGBTQ+ community, an honor Rippon doesn't take lightly. During an interview with CNN, Rippon opened up about the messages of support he's received from his fans.
He said,
I've got so many messages from kids all over the country — I'm getting so emotional thinking about it — I think that's why it's so important. I think as an athlete I use this platform to my advantage. I think it's giving my skating a greater purpose.
Rippon certainly is also taking a stand in terms of discussing politics.
Leading up to the Winter Games, Rippon revealed to Christine Brennan of USA Today that he has no plan to meet with Vice President Mike Pence, who was named one of the U.S. officials that would lead the American delegation during the Winter Games. This is largely due to Pence's reported stances on LGTBQ+ rights.
He said,
If it were before my event, I would absolutely not go out of my way to meet somebody who I felt has gone out of their way to not only show that they aren't a friend of a gay person but that they think that they're sick. I wouldn't go out of my way to meet somebody like that.
Rippon told DailyMail.com that he's decided to opt out of attending the traditional White House visit in order to "support his community."
Whether it's on the ice or in a press conference, Rippon always knows what to say. Twitter loves you Adam.