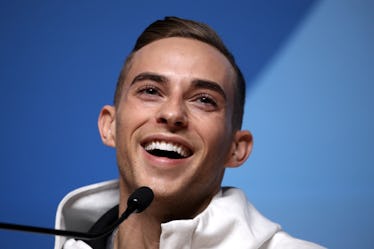 Adam Rippon's Short Program Skate Song Will Make You Get Up & Dance
Chris Graythen/Getty Images Sport/Getty Images
If you've managed to tune into even just a little bit of the 2018 Winter Olympics in PyeongChang, there's a likely chance you've heard about Adam Rippon. In addition to his his energetic personality and lovable attitude, Rippon is a gloriously graceful ice skater, and we're now aware that he's also a pretty amazing DJ. So if you haven't already heard Adam Rippon's short program skate song, it's so modern and totally fits his zesty personality, on and off the ice.
While the U.S. skating team choreographed their short program to Moulin Rouge's "Come What May" (which is always a fan fave), Adam Rippon selected a more alternative tune for his short program, which is set to air on Feb. 15 between 8 p.m. and 11 p.m. ET on NBC. The song is called "Let Me Think About It" by Ida Carr and Fedde le Grande, and it sounds somewhat similar to an '80s pop song. There's a good amount of synth, a little trumpet here and there, and a bumpin' club beat throughout. The song's level of attitude and high energy is legitimately off the charts. Seeing as Rippon has maintained an upbeat and sassy personality throughout the entirety of the games, there's no doubt in my mind that this is a super fitting song selection for him.
Rippon actually performed to this same exact song at the 2018 U.S. Figure Skating National Championships in January 2018. Unless you're looking to avoid spoilers, definitely make sure to check out the footage, because it will truly give you life. I really can't wait to see everyone in the stands tapping their feet and bringing the attitude, because it seriously is a hella fun song. Watch the footage below.
For his free skate routine, per NBC, Rippon chose to skate to "Arrival of the Birds" by The Cinematic Orchestra, and "O" by Coldplay. Each and every one of his skating routines is clearly nothing short of amazing, because in addition to his moves, his song selections definitely give each performance an extra "umph." I seriously want him to DJ my gym sesh later tonight, because I'll certainly be needing a little bit of his energy.
This year's Olympic Games will be the first time that skaters are actually allowed to use music with lyrics in their routines, according to NBC. If you think about it, it's pretty awesome. Although lyrical songs were already allowed in ice dancing, songs with lyrics have only been allowed in Olympic figure skating since the 2014-2015 season.
In terms of other stellar song choices in the realm of this year's Olympic skating, on Feb. 14, Chris and Alexa Knierim from Team USA skated to a version of "Unchained Melody" from the popular 90's film, Ghost, The Musical. The couple's performance was so bone-chilling and romantic. Even though the Gangneung Ice Arena is probably pretty cold, the Knierims definitely brought on the heat. And if you weren't able to catch the performance, it's worth watching, as the married couple skated their hearts out together on Valentine's Day.
Since skating performances now allow music with lyrics, every one of this year's Olympic skating routines will inspire you to get up and dance. Between hip beats like Adam Rippon's short skate song, and romantic tunes from musical soundtracks like the Knierim's used, there are so many sick beats at the Olympic ice rink this year — and I'm totally going to be Shazaming all of them.
Check out the entire Gen Why series and other videos on Facebook and the Bustle app across Apple TV, Roku, and Amazon Fire TV.