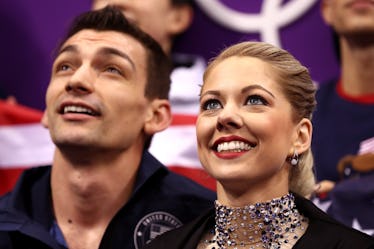 Alexa & Chris Knierim's Pairs Short Program Song Is Romantic AF & I Love It
Ronald Martinez/Getty Images Sport/Getty Images
Despite competing in the 2018 PyeongChang Olympics, this figure skating couple isn't letting the grueling competition ruin their Valentine's Day plans. Alexa and Chris Knierim's pairs short program song is a romantic nod to their marriage, and I'm swooning. Can you say #couplegoals?
The figure skating duo — and only Olympic married couple — are skating to Moulin Rouge's romantic tune "Come What May" for the pairs short program routine competition, which takes place on Wednesday, Feb. 14 (South Korea time), just in time for the most romantic day of the year. While pressure is sure to be on, not many can say they spent their Valentine's Day competing in the 2018 Winter Olympics. In fact, both Chris and Alexa Knierim spoke to USA TODAY Sports about their excitement at spending the holiday on the ice.
"It is going to be a special Valentine's Day," Chris Knierim told USA TODAY Sports. "One we might never have again."
Alexa voiced similar feelings.
"We will have a Valentine's Day that no other married couple on the ice will have," Alexa told USA TODAY Sports. "It will be a most unique bond because there is no other pair competing at the Games that is married so it will be one in a million."
Love is real and I'm weeping.
So not only does this couple slay on the ice, their love story is actually a real life fairytale.
The 2018 PyeongChang Winter Games marks the figure skating couple's first time at the Olympics. The two paired up in 2012 after meeting through their figure skating coach, and ended up winning the U.S National Title in 2015. It was in June 2016 the couple ended up saying "I do" in a romantic figure skating themed wedding ceremony.
The pair lost the opportunity to compete in the 2014 Sochi Winter Games due to Alexa's ongoing gastrointestinal condition, which forced her to undergo three stomach surgeries. Well, this duo is certainly out for redemption. Thus far in the Olympics, the Knierims have totally crushed their figure skating routines, by already scoring an Olympic bronze medal from their Feb. 11 routine.
So this being their first time at the Olympics and Valentine's Day coming up, it's safe to say that the couple is allowed a little PDA. On Feb. 9, during the team figure skating event, where Team USA won bronze, the couple shared a lip-lock on Olympic ice surrounded by an enthralled crowd.
While the crowd all let out "aww's" at the interaction, I'm pretty sure you could hear mine from my living room couch.
Alexa relayed to People how surreal the experience was kissing on an Olympic rink. "When we kissed, in the back of my mind I was like: We're on Olympic ice," Alexa told People. "It's still such a big deal, we're still like kids taking it in."
From lip-locks to high leaps on the ice, this couple hasn't only won bronze, but also our hearts. So, it's safe to say that their "Come What May" performance will be just as heart pounding as their love story.
The Knierim's use of "Come What May" also points to a shift in traditional figure skating rules. In 2014 the International Skating Union announced that they would allow music with lyrics to play during figure skating routines, a rule that didn't come into play until this year's 2018 Winter Olympics. This decision was made ultimately to boost sport viewership, and perhaps entice a younger audience to observe the sport.
France's figure skating team coach, Katia Krier, told The New York Times that she hopes this change will draw a broader audience. She said,
We have to innovate. Our sport is already losing viewers, but we have to give people the desire to watch us. I think this could help. It's a double-edged sword, of course. We have to be careful not to go over the top, but if music with lyrics is used well, it can really bring something more.
Well, come what may, this dreamy figure skating couple has my heart. Good luck out there you two!