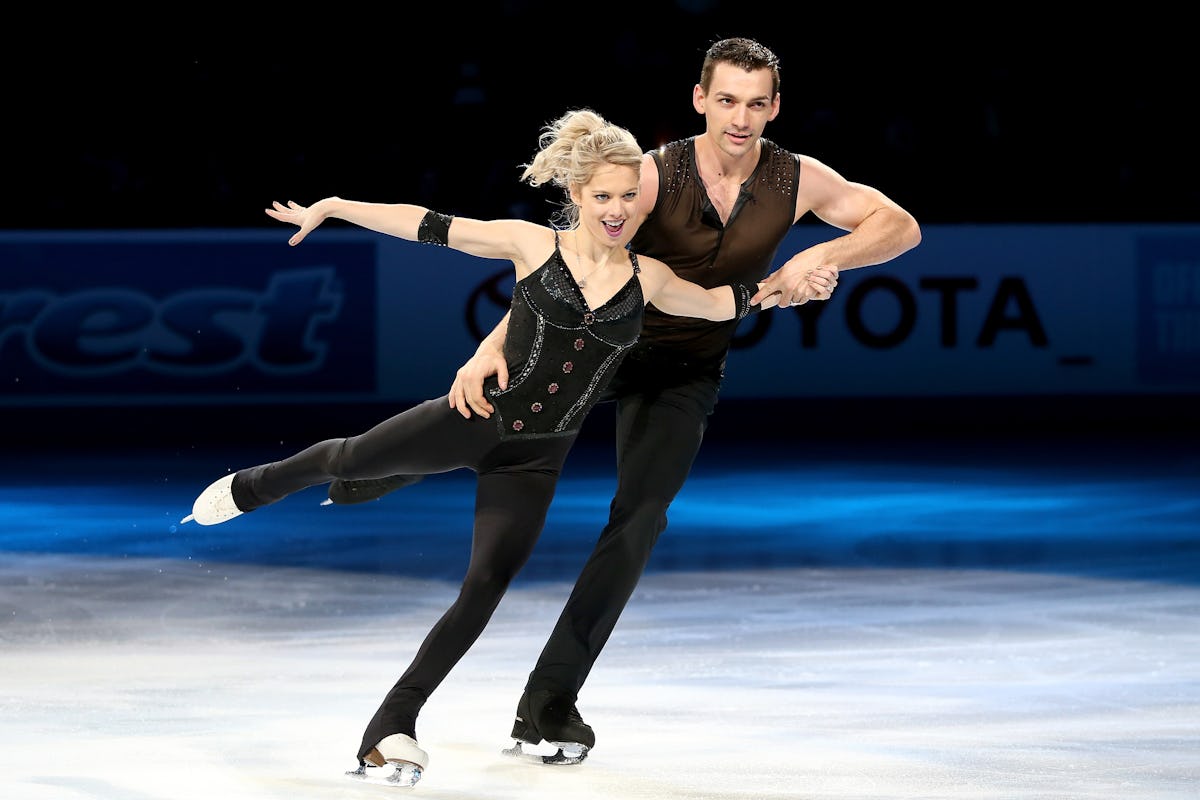 These U.S. Olympic Figure Skating Competitors Are Actually Married & It's So Cute
Matthew Stockman/Getty Images Sport/Getty Images
Team USA pairs skaters Alexa Scimeca-Knierim and Chris Knierim took to the ice for the first time as Olympians on Thursday, Feb. 8 at the 2018 Winter Games in PyeongChang. The dynamic duo proceeded to skate a beautiful, almost-perfect short program, then finished the production with a kiss at the end in the center of the arena. Sparks were clearly flying, leading many fans to wonder, are Chris Knierim & Alexa Scimeca-Knierim married? Because if so, these two are total #MarriageGoals!
The American pairs skaters have become famous for their signature move — the quad twist — which involves Chris tossing Alexa into the air, where she spins around four times (!) before coming back down and he (hopefully) catches her. It's a trick that involves a lot of trust — something these two seem to have in spades. Because yes, the Knierims are, indeed, husband and wife. They're also the first married couple to compete at the Olympics since Americans Jenni Meno and Todd Sand did it in Nagano, Japan back in 1998. And since the United States only entered one pairs team in the PyeongChang Olympics this year, the Knierims are the only set of American pairs skaters currently competing for a figure skating medal. But if the first-time Olympians were feeling the pressure on Thursday, you certainly couldn't tell. I mean, just look at them!
I'm such a sucker for a good Grey's Anatomy reference, aren't you?
The couple brought their A-game to PyeongChang — despite missing the 2016-2017 season due to Alexa's serious gastrointestinal condition that led to three stomach surgeries — and have already won an Olympic bronze medal as part of the figure skating team event that concluded Sunday, Feb. 11.
Way to go, guys!
In the event, each of the 10 teams consist of one woman, one man, one pairs team, and one ice dance team. The U.S. finished third with 62 points (Russia earned second place with 66 points, and Canada took first with 73 points). The U.S. also won the bronze back in 2014, which was the first time the Winter Olympics team event was ever held.
Alexa and Chris first met through their coach back in 2012. According to NBC, the skaters had "immediate chemistry." They teamed up for Nationals in 2015, where they won the title, and were married a year later in 2016. They also won their second national championship this past January. I just love a good Olympic love story — and, apparently, I'm not alone, because the Knierims' fans are totally shipping them on Twitter.
Same, Abigail. Same.
The Knierims will skate again on Feb. 13 in the pairs free skate. But they are far from the only married couple competing at the Olympics this year. There's also bobsledders Nic Taylor and his wife Elana Meyers Taylor. The two met through the sport in 2011, and Nic later proposed to Elana on the podium of the 2013 World Championships. And get this: When the pair tied the knot in 2014, they did it with a cool bobsled-themed wedding.
Then there's Team USA's Jamie Greubel Poser and Germany's Christian Poser — both bobsledders, competing for different countries. The two met at a World Cup Race in 2012, but couldn't talk to each other since Jamie didn't speak German and Christian didn't speak English! Let's hear it for technology, because the Posers used Google Translate to communicate, and were eventually married in 2014.
There's also snowboarders Jamie Anderson and Tyler Nicholson, who met in a Canadian bar and became friends before making it official three years ago.
Clearly, there's lots of love in the air in PyeongChang. Here's hoping there will be lots of shiny medals, too!