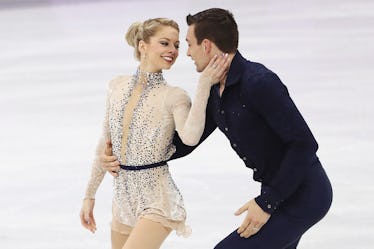 Alexa & Chris Knierim's Free Skate Song Is Beautifully Haunting
Jamie Squire/Getty Images Sport/Getty Images
On Wednesday, Feb. 14, Team USA figure skating duo Alexa and Chris Knierim performed a routine to the tune of Moulin Rouge's "Come What May" during the "short program" portion of pairs competition at the PyeongChang Olympics. A day later, the married couple will be back on the ice again for the "free skate" portion of the competition, this time performing to another similarly romantic song, but one that's much more chilling. Alexa & Chris Knierim's Free Skate Song is "Unchained Melody," the '50s classic that featured prominent in the 1990 film Ghost.
The Knierims have specifically noted that they will be using the a version of "Unchained Melody" that is used in Ghost, The Musical. Still, viewers of their free skate performance are bound to be reminded about the famous movie scene that shot "Unchained Melody" to the top of the music charts, decades after its original release.
The scene from Ghost features acting duo Demi Moore (who portrayed Molly Jensen) and Patrick Swayze (who portrayed Jensen's soon-to-be-deceased boyfriend, Sam Wheat). As Moore spin's clay on a potter's wheel, Swayze joins her from behind, putting his hands on hers for an intimate moment while a recording of "Unchained Melody" plays in the background.
It is quite simply one of the most iconic scenes among '90s films.
That Alexa and Chris Knierim would select such a romantic song is not exactly a surprise. The American ice skating pair — the only married couple competing in PyeongChang — has already shown that it has a knack for creating an intimate skeptical at the Olympics.
Ahead of the duo's short program performance, Alexa Knierim told USA Today Sports, "We will have a Valentine's Day that no other married couple on the ice will have. It will be a most unique bond because there is no other pair competing at the games that is married so it will be one in a million."
On Wednesday, the Knierims fulfilled that promise. At the end of their short program performance, the two shared a kiss on the ice at the Gangneung Ice Arena in PyeongChang.
Overall, the short program performance landed the duo a 65.55 score, leaving them outside the top ten pairs in ice skating. Still, the couple is soaking in a moment that they say goes beyond winning medals.
"I think what a lot of people have a hard time grasping is this journey is really between Chris and I," Alexa Knierim said on Wednesday, per The Washington Post. "It's not about our score. It's not about the other teams being better than us. It's deeper than that."
The couple has also discussed why they are simply grateful to be at the Olympics after a period of years that saw both grieve the death of family members and an illness that threatened Alexa Knierim's career.
"This competition's very meaningful for us," Chris Knierim told People. "We've kind of been lacking the joy and lightheartedness of life for about two years now, from all the struggles we've been through, so being here together, Chris and I are kind of just enjoying it."
In an interview with Yahoo! sports columnist Dan Wetzel, the Knierims said they didn't even have an official first date, only that Chris went in for a kiss one day, which he admitted was risky.
"That's the thing," Chris Knierim told Yahoo!. "There is a fine line between going for those feelings or not, because it can turn out bad. Some teams have broken up because they have broken up in their relationship. I obviously never dated my partner so it was a new avenue for me."
With the pair still together, married, and competing at the Olympics, the kiss clearly did no harm, and the pair's upcoming performance to "Unchained Melody" is proof of that.