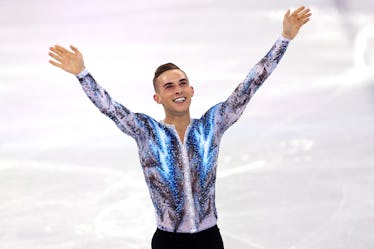 Olympian Adam Rippon Will Do This Instead Of Visiting The White House Following His Bronze Medal Win
Maddie Meyer/Getty Images Sport/Getty Images
The Olympic figure skating competitions have been in full swing ever since the 2018 PyeongChang Winter Olympics opening ceremony in South Korea on Friday, Feb. 9. Team USA recently had good reason to cheer when the U.S. figure skating team earned a bronze medal in the team competition. Team member and newly minted bronze medalist, Adam Rippon, who is the first openly gay U.S. figure skater to compete at the Winter Olympics, discussed the possibility of traveling to Washington, D.C. (as is customary with U.S. Olympic medalists), but his plans are a little different. Adam Rippon won't visit the White House after the Olympics to protest against what he sees as homophobia among the highest leadership in the U.S.
Rippon is the first openly gay U.S. figure skater competing in the Winter Olympics, and his decision to boycott a White House visit post-bronze medal win is not his first foray into talking politics. It wasn't surprising back in January that the 28-year-old openly gay Olympic figure skater had a few thoughts about current Vice President Mike Pence leading the U.S. Olympic delegation to South Korea. Rippon told USA Today that he couldn't really believe the choice given Pence's history with the LGBTQ+ community. He said:
You mean Mike Pence, the same Mike Pence that funded gay conversion therapy? I'm not buying it.
Rippon backs up his latest decision to pass on a Team USA White House visit with his thoughts about the message he believes is sent to the LGBTQ+ community from some of the personnel currently in the White House, like when LGBTQ+ pages were deleted off the official White House website in January 2017 after President Donald Trump's inauguration. Rippon told DailyMail.com that his decision to skip the White House visit is "to support my community." He further doubled down on staying away from a White House visit and elaborated what he might like to do instead. Rippon said:
No. I have no desire to go to the White House. But I would like to do something to help my community.
Rippon also reportedly declined a requested meeting with Vice President Mike Pence during the games in PyeongChang. ( Vice President Pence's offices declines that they requested a meeting.) The vice president's office claims Pence merely offered to meet with Rippon before the competition. Team USA generally meets with members of the U.S. delegation a few hours before the opening ceremony during the Olympic Games, but there was a skating event that same day, so a Rippon and Pence meeting would have been very inconvenient for the Olympic medalist. Given that Pence was the person Rippon would have been meeting with, Rippon explained that Pence isn't the kind of person Rippon would inconvenience himself for. Rippon said:
If it were before my event, I would absolutely not go out of my way to meet somebody who I felt has gone out of their way to not only show that they aren't a friend of a gay person but that they think that they're sick. I wouldn't go out of my way to meet somebody like that.
Vice President Pence has been accused of supporting gay conversion therapy during his political career in Indiana, and The New York Times reports that an archived website from Pence's Congressional campaign in 2000 for a seat in Indiana's 2nd District cites the issue of the Ryan White Care Act. The Act that provides federal funding for H.I.V./AIDS patients was reauthorized by Congress in 2000, and Pence had thoughts about that on his campaign website. He claimed:
Congress should support the reauthorization of the Ryan White Care Act only after completion of an audit to ensure that federal dollars were no longer being given to organizations that celebrate and encourage the types of behaviors that facilitate the spreading of the HIV virus. Resources should be directed toward those institutions which provide assistance to those seeking to change their sexual behavior.
Many people took that last part about "institutions which provide assistance to those seeking to change their sexual behavior" as Pence's endorsement of conversion therapy. In November 2016, a spokesperson for Mike Pence told The New York Times that Pence does not support gay conversion therapy and that his 2000 campaign statement had been misinterpreted.
Misinterpretation or not, Rippon has made up his mind that a White House visit will not make the cut for his post-Olympic medal victory plans. You'll have to keep an eye to see just how Rippon plans to celebrate his bronze-medal-worthy Olympic victory while also supporting his fellow members of the LGBTQ+ community.