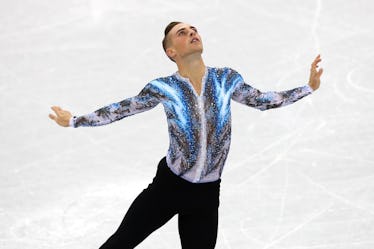 Adam Rippon Skated To Coldplay In His Olympics Debut & It'll Bring Tears To Your Eyes
Dean Mouhtaropoulos/Getty Images Sport/Getty Images
Figure skating is easily one of my top three favorite events during the Winter Olympics. While much of the attention is on the female figure skaters, there's still a lot to be said about the men competing for Olympics gold. One of those male competitors from Team USA is getting a lot of extra attention, and for a very good reason. Between his moves, outfit, and choice of song, Adam Rippon's Olympics free skate debut was every bit as stunning as I could have imagined.
Rippon made his long awaited Olympic debut on Feb. 11. You could tell by the look on his face throughout his entire performance that he was living for the moment and so honored to be a part of these games. He delivered a gorgeous performance in the free skate portion of the team competition, where he and fellow Team USA skaters were competing to be the best nation at figure skating.
The skate Rippon delivered was super emotional — not just because it was his first Olympic competition, but also because his choice of song was tear-inducing. Rippon chose to skate to a musical medley that capped off with "O" by Coldplay — honestly one of the band's best songs in my personal opinion. If you haven't listened to it, I suggest you do right now.
It was hard to fight back the tears watching Rippon dance across the ice with such grace to this track, especially knowing the backstory behind his journey to his first Olympic games. First of all, he is one of the few openly gay athletes to represent the United States at the Olympics. He is joined by freeskier Gus Kenworthy as the only two openly gay athletes that are a part of Team USA at this year's winter games. In fact, Kenworthy and Rippon are the first openly gay athletes to represent the U.S. since 2004, and the first to do so at a Winter Olympics, so that in and of itself is pretty impressive.
Rippon is also the first openly gay figure skater in the U.S. ever, so he is literally making history with his debut. In an interview with the Wall Street Journal Rippon said about being openly gay, "I wanted to be out, and I wanted to share my story, because I know that's not a luxury that everybody else has. And being out and being visible can help make the journey a lot easier for somebody else." I mean, can he get more inspiring?
But it also took a lot of time for Rippon to earn his spot on the ice — six years, to be exact. In an interview he gave with NBC following his performance, Rippon said that he at one point could not even afford groceries. And now he's made it to the Olympics. Seriously, so inspiring. And his stunning performance (which earned him a third place spot in his contribution to Team USA's overall group score) just shows how excited he was to be in Pyeongchang tonight. I mean take a look at it for yourself — you definitely won't regret it.
After missing his chance to make the team four years ago, Rippon has finally made it to the Olympics. And a victory of this magnitude surely must taste sweet. He is one of the many athletes on Team USA that have made serious sacrifices to come out on top and make it to the 2018 Winter Olympics. and I am so so over the moon happy that Rippon has this chance to shine at the games this year. It would be really hard to root against this guy. I mean, who doesn't love a good underdog story, right?