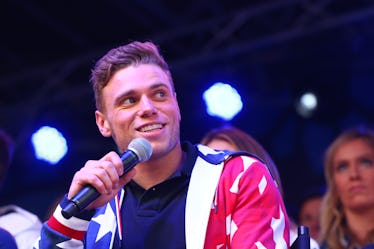 Gus Kenworthy Opens Up About Being LGBT At The Winter Olympics & It's So Moving
Mike Stobe/Getty Images Sport/Getty Images
Any athlete who gets the honor of representing their country at an Olympic Games will tell you that it is one of the proudest moments of their life. And there are some athletes who take this honor one step further and use their platform to do some good, and maybe even enact change. One such athlete is Gus Kenworthy, the freestyle skier and all-around gem representing Team USA at the Winter Games. There's a lot to love about this guy, but these quotes about Gus Kenworthy being LGBT at the 2018 Winter Olympics will make you love him even more — if that's even possible.
All of Team USA's athletes at the Olympics are incredible and truly inspirational, but Kenworthy is a standout among the rest. He is one of the few openly gay athletes who has represented this country, and from what Olympic fans have heard from him in interviews past show that he is truly proud of his decision to come out. In his latest interview, Kenworthy discussed how he feels about representing not only this country, but the LGBT community in South Korea.
According to AP, Kenworthy said that many athletes who are not openly gay have confided in him during these games. "That's been insane to me, and I think it also just shows that there's a lot more of us," he said in an interview on Feb. 11, "but it's still kind of a condemning time and hopefully one day it won't be." Just before the opening ceremony on Feb. 9, Kenworthy posted a series of pictures on Twitter with fellow openly gay Olympian Adam Rippon with the caption, "We're here. We're queer. Get used to it." Seriously so, so adorable.
Another revelation fans have learned from this latest interview? It was his experience at the last Olympics he competed in that inspired Kenworthy to come out as openly gay. The last Winter Olympics were held in Sochi, Russia, in 2014, and the homophobia he felt in the very conservative country made him feel compelled to come out and be proud of who he is. "Just being there, I realized how important it is to have representation," he said. "That was like the beginning of the end for me in the closet." Seeing as those who are openly gay in Russia literally risk their lives to be who they are, it's easy to understand how anyone would feel the need to speak out after witnessing such dramatic homophobia.
Kenworthy came out as gay in 2015 on the cover of ESPN Magazine, just about a year after his first Olympics games. In a subsequent Instagram post of the cover, Kenworthy wrote,
I am gay. Wow, it feels good to write those words. For most of my life I've been afraid to embrace that truth about myself. Recently though, I've gotten to the point where the pain of holding onto the lie is greater than the fear of letting go, and I'm proud to finally be letting my guard down... For most of my life I've dreaded the day that people would find out I was gay. Now, I couldn't be more excited to tell you all the truth.
Coming out is never an easy feat, let alone if you're a public figure like Kenworthy is. But he hopes that by sharing his story and his experiences, others won't as afraid to share who they truly are with the world. And clearly he's had an impact on this Olympic team already, seeing as they confide in him with their own personal struggles.
It's always impressive when individuals who have reached a level of fame use their platforms positively and shed light on very important issues. I personally cannot wait to watch Kenworthy absolutely kill it on the slopes at this year's Winter Olympics. I'll definitely be rooting for him to take home the gold.