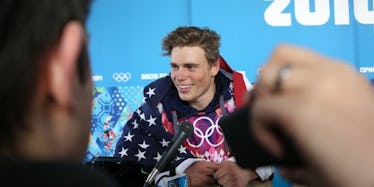 Olympic Skier Gus Kenworthy Comes Out As Gay On The Cover Of ESPN (Photos)
Getty Images
Today, via the cover of ESPN The Magazine, one of the best freeskiers on the planet came out as gay.
Gus Kenworthy, 24, took home a silver medal in slopestyle at last year's Sochi Olympics, and he medaled at Winter X Games Europe the year prior. But today, he won something far greater than any prize or accolade.
Today, he won his freedom. The freedom to be who he is and not worry about hiding his identity.
This is a momentous occasion for many reasons, including the fact Kenworthy competes in a sport built on images and sponsorships, and he appears confident his skill is the only thing he should be judged on.
Kenworthy worked as hard as any athlete who shares his craft, and while coming out to the public was never going to be easy, coming out shouldn't be the focal point of his life story.
The American told ESPN,
I always felt like I had something to prove, like I had to work twice 
as hard to make sure I got it. I knew I didn't want to be a good skier. 
I wanted to be the best.
With two simple words, "I'm gay," Kenworthy let the world know he is done hiding.
His announcement was met with nothing but support from the likes of key sponsors...
Thank you guys so much for the support! I feel privileged to work with such amazing people and companies :) https://t.co/wUpK9igDp8 — Gus Kenworthy (@guskenworthy) October 22, 2015
...and his famous friend Miley Cyrus.
The US Freeskiing team had the 24-year-old's back, too.
A huge day in action sports, the @Olympics and in @guskenworthy​'s life. We stand with him and support him. https://t.co/TSUYG1xXIc — U.S. Freeskiing (@usfreeskiing) October 22, 2015
The moment really sunk in when Kenworthy watched his story unfold before him on ESPN.
Just watched my story air on @ESPN @SportsCenter and I'm all choked up. Tears of joy! Thanks for your support :) pic.twitter.com/A1VUHZh3Pb — Gus Kenworthy (@guskenworthy) October 22, 2015
Check out Kenworthy's incredibly moving story in full on ESPN's website.
Citations: Olympic freeskier Gus Kenworthy's next bold move -- coming out (ESPN The Magazine)