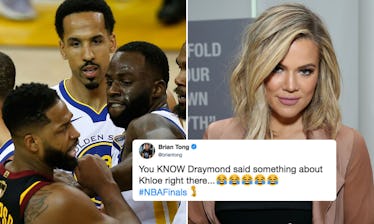 Tristan Thompson Got Into A Fight During An NBA Game & Twitter Made It About Khloé K
Lachlan Cunningham/Getty Images; Cindy Ord/Getty Images
The Tristan Thompson cheating saga continues. As you all know, the 27-year-old NBA player allegedly cheated on his longtime girlfriend and mother to his daughter, Khloé Kardashian, while she was pregnant. On Thursday, Thompson was thrown out of Game 1 of the NBA finals and fought with Golden State Warriors player Draymond Green on his way out. And, obviously, fans made it the altercation all about Khloé. The truth is, Tristan Thompson's NBA final's fight technically wasn't about the drama between him and Kardashian, but I like to think his pent-up aggression is. Elite Daily reached out to Thompson and Kardashian's team for comment on the cheating rumors but did not hear back by the time of publication.
On Thursday, May 31, the Cleveland Cavaliers and Golden State Warriors were in overtime with just a few seconds left on the clock. Thompson was called for a flagrant foul and ejected from the game. However, something quickly escalated between him and Green on his way out, and Thompson shoved the basketball player in his face. Whoops. Of course, anytime Thompson acts out is a chance for KUWTK fans to make it about the cheating allegations against him.
Twitter lit up with users trolling the whole situation, joking that the confrontation was all about Kardashian. One fan said the ref took it personally and must have been on Kardashian side, while another joked that Drake (who's currently dealing with secret-baby rumors of his own) was a better dad than him (ouch). Obviously, there is a lot of material here for fans to speculate over.
You can watch the altercation go down in the tweet below.
Despite what Twitter thinks, Thompson says he was simply "contesting a shot that shouldn't have been taken." He told reporters after the game, "I mean, it's like the unspoken rule in the NBA: If you're up by 10 or 11 with about 20 seconds left, you don't take that shot."
This isn't the first (and surely won't be the last) time fans have made Thompson's professional life about his personal life. In a previous game against the Boston Celtics, player Marcus Morris was caught on camera shouting in Thompson's face. It was as if the meme gods shined down on Twitter users everywhere. Similar to Thompson's foul against Green, users made it seem like Morris was also shouting about Kardashian.
Prior to the epic Morris meme, fans chanted Khloé's name at Thompson during a May 1st game against the Toronto Raptors while he took free throws. Sure, he sunk the ball, but it was satisfying to listen to anyway.
While Thompson has yet to make any official statements about the cheating allegations, a source told US Weekly he's exhausted. The insider claimed, "Tristan is completely emotionally and physically exhausted from the cheating allegations and of course the playoffs. He is focused on the winning a championship for Cleveland." Elite Daily reached out to both Kardashian and Thompson's teams for comment on the report but did not hear back by the time of publication.
Hm, maybe he should have thought about that before he was reportedly filmed allegedly kissing multiple other women while simultaneously dating one of the most famous and beloved women of all time? I don't know. Just spitballing here.
For now, it seems like Kardashian and Thompson have agreed to try to work things out. One insider told E! Kardashian's desire to make her family work for the sake of baby True takes precedence over anything else. The insider said, "Khloe has given Tristan another chance at their relationship, and is trying to put the pieces back together for the sake of True." They added, "Although she is crushed by the scandal, Khloé desperately wants things to work and wants to have a complete family." Elite Daily reached out to Kardashian and Thompson's teams for comment on the report but did not hear back by the time of publication.
I suspect that when the NBA finals are over, Thompson will have a long, hard conversation waiting for him at home. Hopefully, Draymond Green won't be there waiting for him, too.