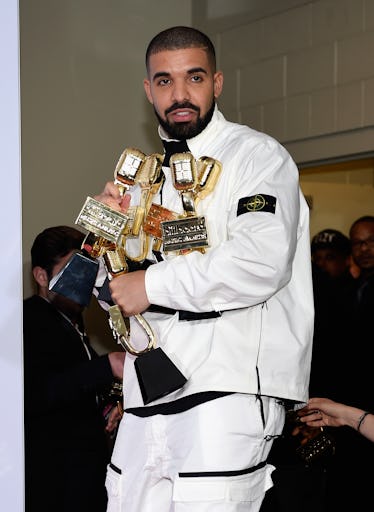 This Update On Drake Could Mean There's Some Truth To Those Secret Baby Rumors
David Becker/Getty Images Entertainment/Getty Images
There is a lot of drama going on in Drake's life right now. The rapper was put on blast on a diss track created by Pusha T that claimed Drake reportedly has a son he keeps secret from the world. Drake has yet to respond to the claims made in the track, and Elite Daily reached out to Drake's team regarding the claims but did not hear back by the time of publication. Anyway, in the song, Pusha T says Drake and a woman named Sophie are keeping their reported child (who is reportedly named "Adonis") secret. But now, this new Drake "secret baby" update could mean there may be some truth to the rumors surrounding the rapper.
In the song, called "The Story of Adidon," Pusha T remixes JAY-Z's "The Story of O.J." and says,
Sophie knows better, ask your baby mother. Cleaned her up for IG, but the stench is on her. A baby's involved, it's deeper than rap. We talkin' character, let me keep with the facts. You are hiding a child, let that boy come home. Deadbeat mothaf*cka, playin' border patrol, ooh. Adonis is your son, and he deserves more than an Adidas press run, that's real. Love that baby, respect that girl. Forget she's a porn star, let her be your world.
Drake hasn't addressed the track at all. According to TMZ, however, the claims Pusha T makes in the song are reportedly incorrect; Drake reportedly has been financially supporting Sophie Brussaux ever since he learned she was pregnant. The website also reported Drake is reportedly planning on taking a DNA test to know for sure whether or not Adonis is his biological son, but the source reportedly told TMZ he reportedly feels there is a small possibility that the child is his. Elite Daily reached out to Drake's team for comment on this report, but did not hear back by the time of publication.
What's more, TMZ reports that Drake was reportedly planning on revealing the truth about Adonis to the world on his upcoming album, but Pusha T revealed it before he could. Elite Daily reached out to Drake's team regarding these claims, but did not hear back by the time of publication. So whatever reveal plan Drake reportedly had, if these reported claims are true, the rapper had to change it.
Confused by all of this? Me too. It's a lot of information coming at us really fast. Hopefully, Drake's upcoming album will clear up the rumors and we'll know the truth. Drake's new album, Scorpion, is set to come out sometime in June, so we might not have to wait much longer for answers. The rapper appeared at a concert in Toronto on April 5 and said to the audience, "The reason I'm here tonight is because I'm back in the city finishing my album."
Then, on April 16, he revealed the release date and title of his album on Instagram.
None of the songs he has released recently ("Nice For What," "God's Plan," "Diplomatic Immunity") have mentioned anything close to revealing that he has a son, so we'll have to wait and see if other songs on the album will. Until then, all of these reports of Drake's "secret son" are speculation.
Sophie Brussaux is the reported mother of Drake's rumored baby, Adonis. She reportedly gave birth to the baby boy in October 2017, reportedly nine months after Drake and Brussaux were seen together at a restaurant in Amsterdam. Brussaux is a former adult film actress who used to go by the name Rosee Divine, and now she's a painter.
TMZ previously reported that Brussaux claimed to have a text exchange between her and Drake where she reportedly told him she was pregnant and he reportedly urged her to have an abortion. TMZ reached out to Drake's team for comment at the time, and his camp responded saying,
This woman has a very questionable background. She has admitted to having multiple relationships. We understand she may have problems getting into the United States. She's one of many women claiming he got them pregnant ... If it is in fact Drake's child, which he does not believe, he would do the right thing by the child.
This is clearly a mega complicated story, and only time will tell if Drake is going to respond to any of the reports himself.