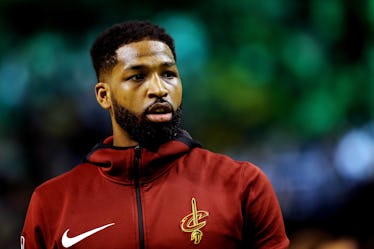 This Meme of Tristan Thompson Getting Yelled At Is Just What Khloé Kardashian Fans Needed
Maddie Meyer/Getty Images Sport/Getty Images
In an unfair world during confusing times, it's always a nice when the internet gifts us with something as good as this meme of Tristan Thompson getting yelled at. Ever since reports began circulating that Thompson cheated on Khloé Kardashian, Keeping Up With The Kardashian fans have been living in a state of borderline hysteria. Everyone has been wanting to shout things like, "How could he do that?," "What the actual F-word?," and "Hey, SCREW YOU, TRISTAN!" Boston Celtics NBA player Marcus Morris jumped on his opportunity to shout right in Thompson's face, too. Sure, it was about basketball, but we're all living vicariously through him anyway.
In mid April, KUWTK fans learned Khloé Kardashian was in labor with her first child. Practically simultaneously, videos were released claiming to show Thompson kissing other women. Elite Daily reached out to Kardashian and Thompson's teams regarding the cheating reports but did not hear back by the time of publication. It was... not great. It was kind of freaking terrible, actually. From the outside, Kardashian and Thompson seemed to be a match made in heaven right up until their daughter True's due date. Despite the public having such strong opinions about the state of their relationship, Thompson and Kardashian both have yet to go on the record about the cheating allegations.
With all of this built-up tension surrounding Thompson, it is so, SO satisfying to see him get screamed at. The meme of Morris shouting in Thompson's face is the gift Kardashian's fans all deserve, that they didn't even know they wanted.
Here's the video of what actually created the meme:
And here's the internet jumping all over it:
Nope, I'm not tired of it yet. It just feels so right.
The truth is, according to an insider, it looks like Kardashian and Thompson are going to try to work things out. The two have been spotted grabbing food together in Cleveland and even caught a matinee movie. According to the source, Thompson has moved back in and they're working on being a family. E! reported,
Things are more complicated now that there is a child involved, but it was causing more stress on Khloé by being in limbo with Tristan. Khloé decided that the back and forth and indecisiveness on what they were going to do was taking a toll on her. She wants to brush things under the rug and move forward.
Elite Daily reached out to Kardashian and Thompson's teams regarding the report but did not hear back by the time of publication. The source elaborated Kardashian has set up some rules for Thompson.
"Khloé has definitely set guidelines and boundaries for their new chapter," they said. "She wants to make sure she is not embarrassed and heartbroken again, but everyone is warning her. Khloé has a huge heart and once she falls, it's hard for her to give up on someone she cares deeply about. She has been in a rough spot this past month."
It also sounds like Thompson is up for the challenge and wanting to make things right. (Good luck with that, buddy.) According to the insider, Thompson must have said whatever the magical words were to make Kardashian take him back again. The source explained,
[Khloé] can't imagine being a single mom and giving up her dream life she had planned with Tristan. People make mistakes and she has found it in her heart to forgive him. He has vowed to change and she feels that he has learned his lesson. All eyes will be on him and he doesn't want to ever let Khloé down again.
Thompson better never let Kardashian down again, or Marcus Morris, or me, for that matter.
Hey Tristan, "AHHHHHHHRGGGHHHH!"
Check out the entire Gen Why series and other videos on Facebook and the Bustle app across Apple TV, Roku, and Amazon Fire TV.