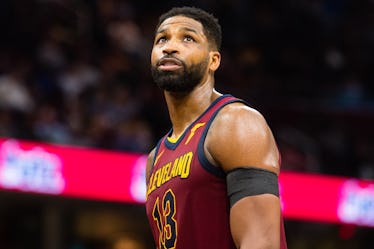 Tristan Thompson's Cheating Reports Are Affecting The NBA Player In Another Huge Way
Jason Miller/Getty Images Sport/Getty Images
If you're a Cleveland Cavaliers fan, you're probably going to want to read this. While the Cavs played against the Indiana Pacers on Wednesday, April 18, Tristan Thompson wasn't exactly celebrating the victory — that's because he wasn't even on the court. Yep, Tristan Thompson was benched from an NBA playoff game amid rumors that he cheated on Khloé Kardashian.
The last time Thompson was playing with his team was three days prior, when, according to People, he "only played a total of two minutes" during the game and was also reportedly booed by fans. So, one could say that things are really not looking up for him right now.
For those of you who are just tuning in, Tristan Thompson is currently wrapped up in a *huge* reported cheating scandal. On April 10, The Daily Mail released footage claiming to show Thompson kissing a woman who wasn't Khloé Kardashian. To recap the whole sitch, Thompson was seen out in New York City on Saturday, April 7, at a rooftop bar and lounge, and footage suggests that he was kissing a woman whose name, according to reports, is Lani Blair. Elite Daily has reached out to Kardashian and Thompson's teams for comment on the claim and the reported video footage but did not hear back by time of publication.
According to The Daily Mail, the woman who reportedly filmed the clips that were obtained said,
I was there and he was on the table right next to us with a group of friends and some girl who he was obviously making out with all night. They were holding each other and it was so obvious. They were there when I got there and they were part of a big group of friends.
Since then, there have been reports suggesting that the number of women that Thompson has had an affair with has now reached five. Elite Daily reached out to both Kardashian and Thompson's teams for comment on each report, but did not hear back by time of publication.
So, what does that mean for Thompson's basketball career? While there's no real confirmation on where things might go from here, it doesn't seem all that positive. According to Elle, "Thompson has no known injuries, but is likely not playing because his notoriety has become a distraction to his team."
And, just days after it came out that Thompson reportedly cheating on Khloé Kardashian, she went into labor. On April 12, Kardashian's daughter True Thompson was born in Cleveland, where Kardashian moved to be closer to Thompson.
She confirmed the birth of her first child on Instagram, posting a photo of a room filled with pink balloons and flowers, with a caption that read:
Our little girl, True Thompson, has completely stolen our hearts and we are overwhelmed with LOVE. Such a blessing to welcome this angel into the family! Mommy and Daddy loooooove you True!
While many fans are urging Kardashian to get out of Cleveland ASAP and go back to Los Angeles to be close with family and friends, a new report from Us Weekly says that she won't be leaving Cleveland "anytime soon." The source told Us Weekly,
Khloé appreciated her sisters coming to see her and True in Cleveland, but she made it clear, she isn't going to be leaving anytime soon. It's important for Khloé that Tristan spend time with their daughter.
Elite Daily reached out to Kardashian and Thompson's teams for comment on the report but did not hear back by the time of publication. The report also claims that Kardashian didn't feel it was right to move away during this point in Thompson's career while the Cleveland Cavaliers are "in the middle of the playoffs."
"Were Khloé and True to leave Cleveland, it could be a bit of time until Tristan would be able to spend any significant time with their daughter in Los Angeles," the source also added.
It's incredibly thoughtful for Khloé to be thinking of others at a time like this, but what I think really needs to happen is for her to look out for her Number One from here on out, and that's herself and her daughter.
Stay strong, Khlo. You've got this.