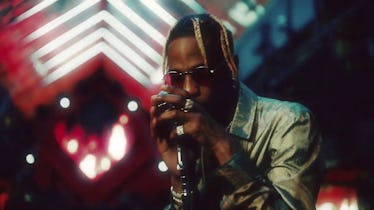 You May Have Missed Travis Scott's Sweet Tribute To Stormi In His "Sicko Mode" Music Video
YouTube/Travis Scott
Travis Scott isn't taking a trip to Astroworld without carrying a reminder of his baby girl. On Friday, Oct. 19, the rapper rocked our worlds by dropping the heavily-anticipated music video accompaniment to his hit track "Sicko Mode," and to no one's surprise, it's a visual feast. Set against the backdrop of an apocalyptic Houston, there's different dimensions, twerking, a solar eclipse, and even Drake jamming in a chauffeur-driven Cadillac. But one small, albeit totally adorable, detail is making fans lose it. Prepare for your heartstrings to get pulled, because Travis Scott's "Stormi" necklace in the "Sicko Mode" music video is the sweet tribute that you never saw coming.
As the clip begins, viewers can see that a storm(i) is brewing in Houston. As Astroworld refers to an old, now defunct amusement park in Houston that Scott used to frequent as a child, there's plenty of references to the Texas city. Citizens go into their homes before Drake strides out in front of a solar eclipse while walking a dog. If you thought that was a lot, Travis Scott then makes his first appearance while riding a horse. There's graffitied cars, Drake falling through space, women twerking in the background, Travis's totally random transformation into a professor, and last but not least, a bedazzled, in-your-face, diamond Stormi necklace that's actually a pretty sweet tribute to his daughter.
While Stormi doesn't make an appearance in said video, she's been a constant fixture while mom Kylie Jenner and Scott have been promoting Astroworld.
During the listening party for his album during Lollapalooza in August, Scott gave a shout-out to his bundle of joy. "I didn't want to have a big listening party ... I only wanted to bring some Day 1 fans in this motherf**ker," he told the crowd. "I've been working so hard on this damn album ... I had a beautiful daughter on the way through this process, too." Aww.
If fans want further proof that Stormi will continue to be a part of the "process," Jenner has also hinted that she and her baby will hit the road when the rapper goes on tour with his chart-topping album.
While most fans will probably love the diamond-encrusted Stormi reference in the "Sicko Mode" video, there's one fellow rapper that's bound to have some beef with the whole thing: Nicki Minaj. Since Astroworld cut out Minaj's album Queen for the Billboard's highly-coveted top spot, the "Anaconda" hitmaker has been dragging the couple for using Stormi's star power (I'm sure those adorable chubby cheeks don't hurt, either) to further his album sales.
On Aug. 21, Minaj took to her Queen Radio podcast to air her grievances. "I love Kylie, I love Kim. I actually love all of them," she explained. "I know that you guys are saying me and baby Stormi have beef. Yes, we do."
She continued, "Now, this is what the f**k is happening today: Me against baby Stormi. We have this rivalry now. I'm going to start from scratch." Starting beef with an 8-month-old, but you do you, Nicki.
So, is Scott's Stormi necklace a not-so-subtle dig at Minaj? Or just a sweet gesture? The verdict's still up in the air, but I'm sure fans from both sides will be weighing in.