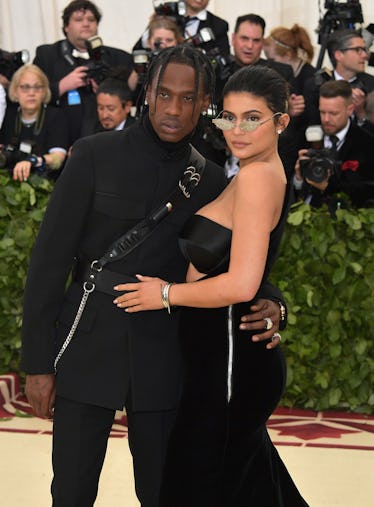 Kylie Jenner's Post About Travis Scott's Tour Hints She's Doing Something Huge For Love
Neilson Barnard/Getty Images Entertainment/Getty Images
OK you guys, blink if you love Kylie Jenner and Travis Scott. LOL, as if you had a choice! But seriously, the new parents are crushing life right now, and I'm living vicariously through the amazing things that they've been posting to their respective social media accounts. Whether it's highlighting absurdly lit birthday parties (ahem, Kylie) or raving about their new music (duh, Travis), these two are doin' the damn thing. And now that Travis Scott's newest album Astroworld is here, many fans are wondering the same thing: Is Kylie Jenner going on tour with Travis Scott? I mean, it's clear that she supports his career and loves his music, but will she hit the road alongside her man and bring baby Stormi? Well, according to one of her most recent Instagram posts, all signs point to a pretty strong possibility that she'll be touring with her man.
Back when Astroworld dropped on Friday, Aug. 3, Kylie Jenner proved she was the ultimate girlfriend by posting a photo of herself wearing Astroworld merch. The new mom, of course, looked fierce, and captioned the photo, "you didn't have to go this hard baby. Astroworld just dropped and it's the craziest ride of my life."
Clearly, Miss Jenner is a big fan of her boyfriend's work — but does that mean that she and Stormi, the couple's 6-month-old daughter, will be joining him for his tour? According to Kylie herself, the mother and daughter are totally ready to go watch Travis kill it on stage.
On Thursday, Aug. 16, she posted a picture of Scott's Astroworld Tour poster, writing, "me and storm ready for tour 🎪♥️ shop.travisscott.com":
So it looks like she's definitely down to tour with Travis! But, considering she's got a baby to travel around with, I'm pretty confident that she won't be showing up to *all* of his shows — though hey, you never know.
The "Butterfly Effect" rapper took to Instagram on Thursday, Aug. 16, to debut the cities that he'll be traveling to for the first leg of his tour. "LEG ONE : FIND UR CITY AND BRING THE RAGE. WE TURNING THESE ARENAS INTO A NIGHT TO REMEMBER !!!," he wrote, listing cities like Miami, New York, and Chicago, to name a few:
And if you can't catch Travis Scott while he's on tour, you'll at least be able to catch him performing at the 2018 MTV VMAs. According to a press release, Scott will be performing a medley of songs off of Astroworld, so even though you might not be listening to him live, you'll be listening to him from the comfort of your couch, which is almost even better.
The jury is still out on whether or not Kylie Jenner will be attending the VMAs, but maybe if we cross our fingers hard enough, she'll magically appear on the red carpet alongside her man. Let's be real: we all want to see another formal appearance from the couple, just like that time they showed up together at the 2018 Met Gala just a few months after Stormi was born:
Man, those were some good times.
If I can get to see Kylie Jenner and Travis Scott together once more for an event, I'll be a happy lady, whether that's on the red carpet or on Scott's tour. I'm not picky!
Wherever you show up, Kylie, we'll be ready for ya.