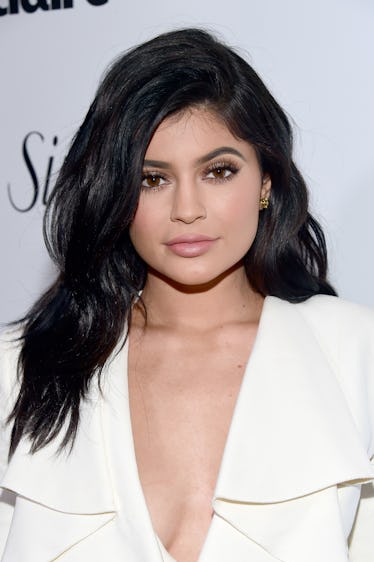 Kylie Jenner's New Photo Of Stormi Shows How Big She's Gotten & She's Growing Up Too Fast
Frazer Harrison/Getty Images Entertainment/Getty Images
Back in June 2018, Kylie Jenner vowed to keep her daughter Stormi's face out of the public eye for the time being. But that's not stopping the new mom from sharing adorable pics of her little girl anyway. In a new Instagram post, Jenner gave the world a peek at just how big Stormi is getting. And wow, is she growing up so fast! In Kylie Jenner's photo of Stormi, you can see that the baby's hair is growing (she's got a tiny, tiny top knot) and she's getting the designer fashion treatment!
The adorable photo of Stormi and Jenner was posted on Wednesday, July 18. As expected, fans were totally in awe of the new snap of little Stormi.
"Omg. Love that dress with the little rompers under it!" one Instagram user wrote. "My daughter had one as a baby just like it but diff color pattern. Ahhh. Time flies. So sweet."
Another one of Jenner's followers was so impressed by Stormi's little top knot that they just had to leave a comment.
"Omgoodness can her hair be in a little ponytail already?" they said. "So cute 😍😍😍."
From the looks of it, little Stormi is all dressed up in Burberry. So cute!
And as you can see, Stormi's face is turned away from the camera so as to obscure her face. After posting several pics of Stormi on Instagram between February and June 2018, Jenner decided that she would no longer expose her daughter's face on social media.
In early June, a source close to Jenner told People that Jenner was super protective of her daughter while she was pregnant:
Kylie felt so protective of her baby when she was pregnant. This is why she didn't share any bump pictures while she was pregnant. After Stormi was born, Kylie was the proudest mom.
People's source also explained that Jenner was anxious to show her baby off to the world. Naturally, she started posting a bunch of pics on social media, but it didn't turn out the way Jenner planned:
She couldn't wait to show off Stormi to her fans. She posted pictures, because she was so excited to be a mom. Unfortunately, social media is a crazy place. People have been making nasty comments.
Understandably, the unfortunate comments about Stormi came as a surprise to Jenner:
Kylie is shocked and doesn't want her daughter's pictures to be a part of something negative. She might reconsider in the future, but for now, she won't post any more photos of Stormi's face.
Since choosing to obscure Stormi's face, Jenner has posted a handful of photos of herself and the baby.
Like this one where Stormi's face is cropped out:
And this super cute photo of Jenner holding little Stormi:
The decision to keep Stormi's face hidden was likely a difficult one, but probably the best thing for Jenner and Stormi. Even without seeing Stormi's face, you can still tell she's a cutie! Maybe Jenner will lift the veil off Stormi's face when she gets a little older. Only time will tell!