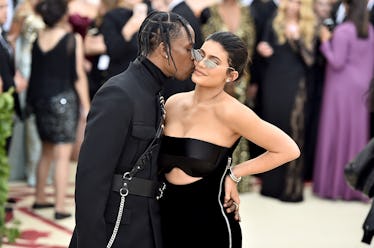 All The Lyrics From Travis Scott's 'Astroworld' About Kylie Jenner Prove They're In Love
Theo Wargo/Getty Images Entertainment/Getty Images
Travis Scott dropped his highly anticipated album Astroworld on Friday, Aug. 3, and fans are pumped it's finally out. One fan, in particular, is really excited the album has been released, and that would be none other than his girlfriend, Kylie Jenner. When the album dropped, she posted an Instagram of her wearing Astroworld merch and said, "you didn't have to go this hard baby. Astroworld just dropped and it's the craziest ride of my life." Jenner is given multiple shoutouts from her baby daddy on the album, and these 10 lyrics from Travis Scott's ASTROWORLD about Kylie Jenner show these two are still going strong.
The first shoutout Jenner gets on the album is in the very first song, "STARGAZING." Other than people being obsessed with the "STARGAZING" beat switch halfway through the song, they're also talking about the fact that Scott called Jenner a "trophy" and seemed to have said that either Jenner or their daughter Stormi "saved" his life. Here are all of the songs with lyrics about Kylie Jenner on Astroworld.
The first reference to Kylie Jenner (and/or possibly Stormi Webster) comes in the literal first minute of the album. Scott sings,
Rollin', rollin', rollin', got me stargazin' (yeah) / Sippin' on purp, feelin' like the Barre Baby (it's lit) / Whenever I'm down, it got me goin' crazy (yah) / Psychedelics got me goin' crazy (alright)
Then he sings,
I was always high up on the lean (yeah, yeah) / Then this girl came here to save my life / Look up to the sky, down on my knees (straight up) / Out of nowhere, you came here to stay the night / In the night-time (woo, yah)
Now, that can either be taken as Scott saying his relationship with Jenner came unexpectedly but it changed his life for the better, or Stormi came unexpectedly and changed his life for the better. Whomever he's singing about in this line, it's precious as hell.
When the beat changes, Scott raps about Jenner. He calls Jenner his "trophy" when he raps,
Bounce that sh*t forever, she on both knees / She was talkin' 'bout forever got a whole week / But she know my baby mama is a trophy / She be throwing up them B's feel like we both bleed / She keep my dick jumpin up, feel like I'm Moby / I'm way too gold for this beef, feel like I'm Kobe
The third song on the album features Drake and a line about both Kylie Jenner and Stormi Webster at the end. When the song closes out, Scott raps,
Passes to my daughter, I'ma show her what it took (yeah) / Baby momma cover Forbes, got these other b*tches shook, yeah
This was a clear reference to Stormi Webster, as well as Kylie Jenner's Forbes self-made millionaires cover. He previously tweeted about how proud he was of her for the cover and the success of Kylie Cosmetics, so it comes as no surprise that he shouts out that proud moment in the song.
"SKELETONS" is closer to the end of the album and it seemingly gives us a glimpse into how Scott and Jenner first got together. They first started hooking up around Coachella 2017, and Scott references that directly in the song. He says,
We just rocked Coachella, I gave her half of the check/ It was good sex, honorable mention to the net / Didn't pass the loud, that was out of respect / Afterwards, pass the towel, I was out of Kleenex/ If you take your girl out, do you expect sex?/ If she take her titties out do you expect checks?/ First visit, I gave her a pearl necklace/ Next visit, I'ma need your girl naked
Very graphic, yet informative!
On the 14th song on the album, Scott raps about the $1.4 million Ferrari he bought Jenner as a gift after she gave birth to Stormi. He says,
Shawty, in the supersonic (yeah)/ Brand new La Ferrari (woo), my b*tch ride iconic
Does anyone wanna buy me a $1.4 million car? No? Haha, OK. Totally understand!
"COFFEE BEAN" is ASTROWORLD's grand finale. In the chorus, Scott seems to reveal that Jenner's family didn't think he was a good match for her. The song hints at rough times in a relationship but you just know it's right regardless. He raps,
How would you feel if I had you? / Trust me, you'll be mad too / Shawty, we can be mad cool / Just hit me if anything past due / Your family told you I'm a bad move / Plus I'm already a black dude / Leavin' the bathroom, my hands is half-rinsed / If only a n**** just had sense / Speaking in past tense / It's been a week and a half since / We ain't been speaking in mad mins / You feeling free in my absence / I've been going through a lot behind this glass tint, yeah (this is all, this is all)
The chorus goes,
Back of the coffee line / Back-back-back in the bathroom line (this is-) / I know they told you I'd be bad for you / Don't worry I'll be back for you / All the money and cars / Stripper hoes and the tattoos, bad news / Back off a coffee bean / Reflecting on all you see (this is all, this is all)
The next verse could be a shoutout to their 2018 Met Gala appearance. Scott raps,
Stressing over award shows / She's stressin' over her wardrobe
Something tells me Kylie Jenner is a big fan of Astroworld after all of these shoutouts to her and Stormi. What a time.