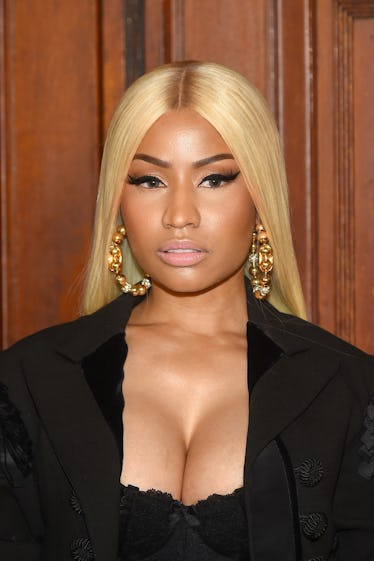 Nicki Minaj's Comments About Her Rivalry With Stormi Will Make You LOL So Hard
Ben Gabbe/Getty Images Entertainment/Getty Images
Nicki Minaj is here to clear the air, people, and she's doing so in a pretty hilarious fashion. As you all know, the "Chun-Li" rapper slammed Travis Scott and Kylie Jenner after her album Queen was surpassed on the Billboard charts by Travis' album Astroworld. If you're not understanding why Kylie was brought into this whole ordeal, it's essentially because Nicki believes she was partly responsible for manipulating fans into purchasing merchandise bundles, which helped to keep Astroworld at number one on the charts. And now, the self-proclaimed Queen of Rap is bringing Stormi into the mix and Nicki Minaj's comments about her rivalry with Stormi are actually pretty funny and (hopefully?) all in good fun.
Nicki took to her show, Queen Radio, on Apple Music's Beats 1 station on Tuesday, Aug. 21, to settle things once and for all, and to give everyone an update on where she's at with the feud currently. Turns out, her focus may not be on Kylie at all.
"I love Kylie, I love Kim. I actually love all of them," she said, adding, "I know that you guys are saying me and baby Stormi have beef. Yes, we do."
She continued, saying, "Now, this is what the f*ck is happening today: Me against baby Stormi. We have this rivalry now. I'm going to start from scratch."
I'm slightly relieved but also slightly confused. Of course, we're all assuming that she doesn't *actually* have beef with an infant and this is one big joke. But does this mean she is over the drama with Travis as well?
If so, that would be quite a huge departure from her outrage aimed at the "Butterfly Effect" rapper and his little family just days earlier, on Aug. 21.
"Travis Scott, on Thursday, when he realized that the Queen was about to have the number one album in America, he and his label decided to have Kylie and baby Stormi put up a tour pass," Nicki said while talking on her show, Queen Radio on Apple Music's Beats 1 station.
She continued, saying, "He had her go and post and say, 'Hey, me and Stormi can't wait to see y'all.' How are you selling something that does not have anything to do with your album but it's being counted on Billboard as album sales?"
Nicki is referencing Kylie's recent Instagram post in which she seemed to imply that her and Stormi may make an appearance on Travis' tour, captioning the photo, "me and storm ready for tour 🎪♥️" and plugging Travis' website where fans could go and purchase merchandise:
Nicki also laid the blame on Travis for promoting season pass bundle sales for his tour. Back on Aug. 19, she took to Twitter and wrote,
Travis sold over 50K of these. With no requirement of redeeming the album! With no dates for a tour, etc. I spoke to him. He knows he doesn't have the #1 album this week. I love my fans for the #1 album in AMERICA! I'll explain on #QueenRadio 4 albums in, #1 in 86 countries
And just a few minutes later, she tweeted,
I put my blood sweat & tears in writing a dope album only for Travis Scott to have Kylie Jenner post a tour pass telling ppl to come see her & Stormi. lol. Im actually laughing. #Queen broke the record of being number 1 in 86 countries. Thank Jesus & thank you to my fans
Hm. You mean to tell me that within a matter of days, Nicki is now totally cool with Kylie and Stormi?
I wish I had a definitive answer for you guys, but unfortunately, it looks like we're just going to have to keep watching this one pan out. Stay tuned.