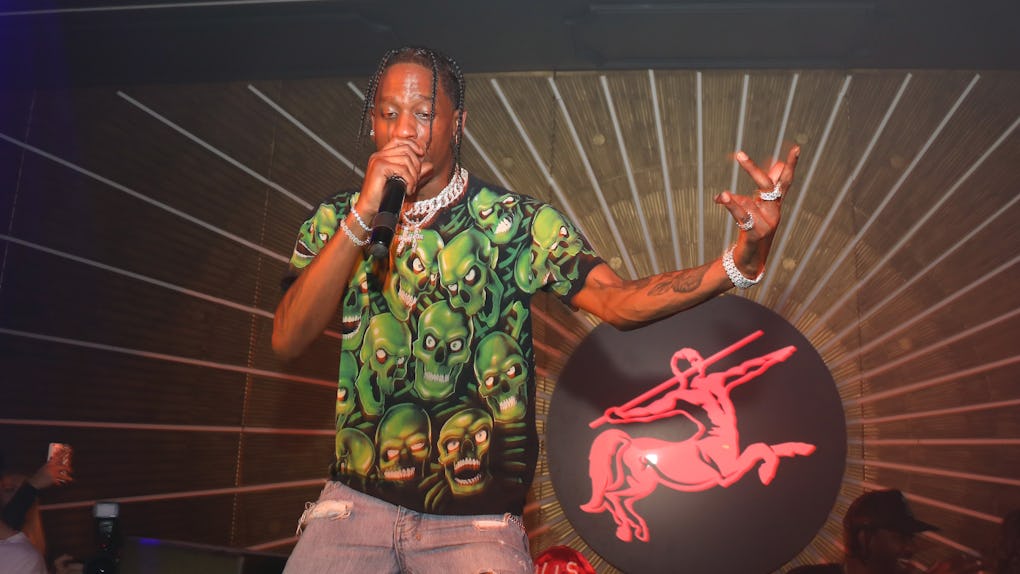 Jerritt Clark/Getty Images Entertainment/Getty Images
Travis Scott's Shoutout To Stormi In His 'ASTROWORLD' Release Party Speech Was Beyond Sweet
Ain't no party like an Astroworld listening party, y'all. Rapper Travis Scott has just released his new album, entitled Astroworld, and to celebrate, Scott traveled to Lollapalooza in Chicago, Illinois and gave some lucky fans access to a ~secret~ listening party. Before he started performing, though, he decided to give his fans a heartfelt speech that basically reduced me to tears. Why, you ask? Because Travis Scott's shoutout to Stormi is the most precious thing you'll hear all day. Trust.
In a video recording of Scott's album listening stream uploaded by a fan, we see Scott on stage, readying to perform. But before he does, he gives a huge shoutout to his fans and supporters, and most importantly, gives little Stormi some love onstage, and it's honestly cuteness overload. In the video uploaded to Twitter, Scott says:
I didn't want to have a big listening party ... I only wanted to bring some Day 1 fans in this motherf*cker ... I've been working so hard on this damn album ... I had a beautiful daughter on the way through this process, too.
GET OUT OF HERE WITH THAT SWEET TALK, TRAVIS!
But he continues to show his appreciation to the crowd, telling his fans, "One thing I wanted to do was create a vibe... I just want you to be able to live your life to this, rage to this, sweat to this, get married to this, find somebody you love. I worked so hard on this album, man, a lot of sleepless nights and sh*t, so I'm just going to start this sh*t off right now. Thank y'all for being on this journey with me."
No, Travis. Thank you.
You can watch the whole speech below, where he not only gasses up his fans but I'm also *pretty* sure he gives away his phone password about halfway through:
Pretty sure he'd have changed it immediately after yelling out the four digits though, so good luck trying to break into his phone anytime soon.
To show support for her man, Kylie Jenner was doing the mostest by showing off some of Scott's merch on Instagram, debuting an Astroworld shirt that looks cool AF.
The Keeping Up With The Kardashian star wrote,
you didn't have to go this hard baby 😢 Astroworld just dropped and it's the craziest ride of my life 😫😍😍
I'd also just like to note that only Kylie Jenner could make a fanny pack look like the only accessory that has ever mattered.
And don't think that Travis Scott only gave his little family a shoutout at the listening party — his album is filled with giving props to the women in his life, with the most notable song, "Stargazing," just happening to be the very first on the track. Some of the lyrics go:
I was always high up on the lean (yeah, yeah) / Then this girl came here to save my life / Girl, look to the sky, down on my knees (straight up) / Out of nowhere, you came here to stay the night / In the night-time (woo, yah) / Got me goin' crazy
I'm not sure whether it was Kylie or Stormi that saved Scott's life, but I'll tell you one thing: I'm more than happy to listen to these songs on repeat to try and figure it out.