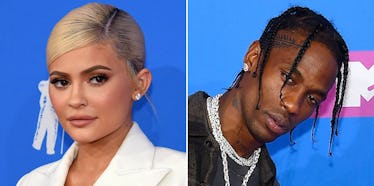 Travis Scott Left The Flirtiest Comment On Kylie Jenner's Instagram That'll Make You Melt
Jamie McCarthy/Getty Images
Kylie Jenner and Travis Scott are in their honeymoon phase for sure. The couple has had an intense relationship in just the year they've been together (hi, Stormi!), but a lot of their relationship was kept under wraps while Jenner hid her pregnancy from the world. Now that Stormi is six months old and they don't have anything to hide, the couple is super public about their love for each other, and Travis Scott's comment on Kylie Jenner's Instagram proves just that.
Jenner and Scott were in New York City this week for the 2018 MTV Video Music Awards. Scott performed some of his new bops from ASTROWORLD during the show (and people are now convinced Kylie Jenner doesn't know any of the words), and Jenner was there to support her baby daddy sans Stormi. In classic Kylie fashion, Jenner posted a bunch of photos on Instagram of her New York looks, and that's where Scott's comment comes in.
Jenner posted this Instagram of her serving looks in a white dress, thigh-high black boots, and sunglasses with her hair completely slicked back on Aug. 21.
Travis Scott commented on the photo of his baby mama saying, "Meal not a snack."
The @CommentsByCelebs Instagram account posted a screenshot of Jenner's photo paired with Scott's comment.
Fans of the couple are shook by Scott's comment.
Jenner's been rocking this up-do all week in New York. She rolled up to the VMAs red carpet on Monday, Aug. 20, looking like the billionaire she is.
This looked a lot like an homage to her Forbes self-made millionaires cover.
When her cover came out on July 11, Jenner posted the cover to her Instagram and said,
wow. i can't believe I'm posting my very own @forbes cover. thank you for this article and the recognition. I'm so blessed to do what i love everyday. i couldn't have dreamt this up! #KylieCosmetics
This is another moment where Travis Scott showed his pride for Kylie Jenner. He tweeted her Forbes cover and said, "CAN'T BE MORE PROUD."
A lot tamer than "meal not a snack," but still good.
Scott and Jenner have been a lot more public about their relationship lately. They did a video for GQ where Jenner asked Scott 23 questions.
These two are clearly obsessed with each other. In an interview with GQ that was published July 17 (just a few days after Jenner's Forbes cover came out), Jenner gave details about how their relationship got started. Basically, they hung out at Coachella 2017, and although they had known each other for a while, something clicked that day, and she went on tour with him immediately after. "Coachella was one of the stops on his tour," she said. "So he said, 'I'm going back on tour—what do we want to do about this?' Because we obviously liked each other." Jenner apparently answered Scott's question with, "I guess I'm going with you." What kind of movie sh*t is this?!
"I really jumped on the bus," she added about the beginning of their romance. "And then we rode off into the sunset. I did the whole tour with him." The rest is history for these two. Despite people trying to start rumors that Jenner and Travis have broken up, Scott's comment on Jenner's Instagram makes it clear that "Kylie and Trav," as Jenner calls her and her partner in her GQ interview, aren't going anywhere.