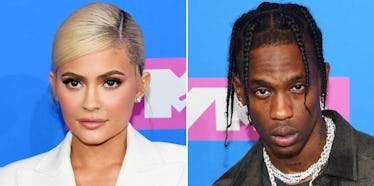 Kylie Jenner & Travis Scott Totally Kissed At The VMAs, But Everyone Missed It
Nicholas Hunt/Getty Images
The 2018 MTV Video Music Awards brought us a lot of that #goodcontent last night, but one of the greatest gifts it gave us was all of our favorite celebrity couples appearing together and showing hella PDA. Like this video of Kylie Jenner and Travis Scott kissing at the VMAs, for example. When do we ever get to see that?! The answer is not quite often, my friends! Jenner made an appearance at the VMAs to support her boyfriend, who performed a medley of some of his songs from ASTROWORLD during the show.
While Jenner and Scott didn't walk the VMAs red carpet together like Ariana Grande and Pete Davidson did (their only red carpet appearance is still their one appearance at the 2018 Met Gala), they sat together during the whole show and shared a handful of sweet candid moments. During one of the commercial breaks, Jenner and Scott were filmed chilling and waiting for the show to start up again when they locked eyes and Jenner leaned in for a kiss. It was short and sweet, but adorable nonetheless.
MTV caught the moment on video and posted it for all of the Jenner/Scott stans to soak in.
While this was a cute little moment between Stormi's parents, people on Twitter couldn't get over how unbothered and straight-up bored Kylie Jenner looked throughout all of the VMAs, and how little she reacted to Travis Scott's performance.
You'd literally never know she was watching her boyfriend perform at a huge award show by the look on her face here.
Kylie, y u no dance?
Fans wanted her to turn up her reaction.
Some questioned if she even knew the words to the songs he was performing.
But then there was this relatable as hell moment. This is literally me at any party when my best friends haven't shown up yet.
I can't even shade this. This is me.
She might not know the lyrics to her boyfriend's new music, but they're definitely still together, and she will shut down any rumors saying they're not.
Recently, a Twitter user tweeted out a (fake) story about her dad being a mover and moving all of Travis Scott's belongings out of Kylie Jenner's house. The tweet flat-out said, "TRAVIS SCOTT AND KYLIE SPLIT." It said,
YALL. Remember how my dad is a mover, and moves all the Kardashian/Jenner's?????? Well home boy spilled the tea and told me that TRAVIS SCOTT AND KYLIE SPLIT. He said they moved all of Travis' shit out of her house. Shouts to my dad for keeping up with the Kardashian's.
The user's follow-up tweet said, "Kylie also gave my dad more tequila so it's lit." The @CommentsByCelebs account posted the tweets along with Kylie Jenner's response that shut down the tweets real fast. Jenner commented, "obviously fake. sh*t was never moved i never gave anyone any tequila."
Lisa is shaking in her boots.
She may not want to be at award shows and she may not know the lyrics to her boyfriend's songs, but don't mess with her when it comes to tequila.