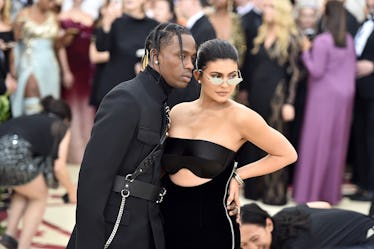 Kylie Jenner Clapped Back At Travis Scott Breakup Rumors With A Perfect IG Comment
Theo Wargo/Getty Images Entertainment/Getty Images
When you're as famous as Kylie Jenner, it's inevitable that there will be a constant stream of rumors about your personal life. Of course, Jenner has been in the spotlight for some time now, so she knows when it's best to keep it quiet or actually respond to some of the claims. On Saturday, Aug. 18, Jenner decided to write a response to someone's claims of a split between Jenner and Travis Scott. Kylie Jenner shut down Travis Scott breakup rumors with an expertly crafted Instagram comment.
Seriously, the lesson here is that you do not come for Jenner's relationship — unless you want to look foolish all over social media. Per an IG post from Comments By Celebs, a now-deleted Twitter account with the username @lisabootylisa posted some hot gossip on Saturday night, with claims of insider info on Jenner's relationship status. She wrote,
YALL. Remember how my dad is a mover, and moves all the Kardashian/Jenner's?????? Well home boy spilled the tea and told me that TRAVIS SCOTT AND KYLIE SPLIT. He said they moved all of Travis' shit out of her house. Shouts to my dad for keeping up with the Kardashian's.
OMG, with that all-caps font and plenty of question marks, this must be legit, right? Lisa Marie also added, "Kylie also gave my dad more tequila so it's lit."
That's when Jenner came in hot and wrote,
obviously fake. sh*t was never moved i never gave anyone any tequila.
She also added the facepalm emoji to really put the final nail in this fake-rumor coffin. I love that Jenner didn't even need to get too riled up to shut down this rumor. And I think the fact that @lisabootylisa decided to pull a disappearing act from Twitter speaks volumes about the veracity of her claims.
I can't get over the fact that @lisabootylisa really thought she was coming in strong with the "receipts" (aka a bottle of tequila?). Comments By Celebs put it perfectly when it captioned the exchange, "Lisa really thought she had us with that last minute tequila addition."
Also, anyone who paid any attention to Jenner's 21st birthday celebrations would know that Scott treated Jenner like the damn queen she is on her big day, and they looked loved-up AF. If you need a refresher, the parents to 6-month-old Stormi Webster looked happy as could be in IG posts and videos from Jenner's Instagram Story on Friday, Aug. 10. Scott danced around with Stormi as Jenner filmed, and Jenner posed in front of a white Rolls Royce (her b-day gift from Scott).
With abundant roses and brand new cars, I don't think there is really any trouble in paradise. Plus, did you see their playful GQ interview on YouTube where Jenner asked Scott 23 questions about her life? I mean, c'mon, these two look like they're totally in love with each other.
Oh, and Scott got a very impressive 20 out of 23 questions correct, so I'm gonna guess that he probably knows that there was no bottle of tequila handed out on this mythical "moving day," too. So, the next time you wanna spill the tea on Jenner's relationship, be prepared to delete your Twitter account and get shut down by the lip-kit queen herself.