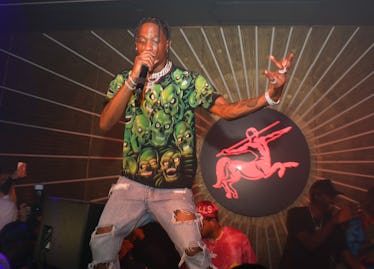 Travis Scott Bought The Cutest Flower Arrangements For Stormi's Welcome Party
Jerritt Clark/Getty Images Entertainment/Getty Images
Travis Scott and Kylie Jenner welcomed their daughter Stormi into the world more than two months ago, and the extravagances have been rolling in ever since. In fact, considering Jenner's affinity for nice things, I'm betting that Stormi's room is filled with the most lavish blankets, priciest trinkets, and the most luxurious designer outfits ever. However, the latest splurge comes on behalf of the "Butterfly Effect" rapper, and you won't believe the price: Travis Scott spent $7,145 on flower arrangements for Stormi, according to TMZ.
On April 7, TMZ reported that Scott footed the bill for multiple flower arrangements for his mom's upcoming welcome party in honor of her granddaughter, Stormi. Scott reportedly paid for six floral sculptures and stands, which show lightning bolts striking through a cloud of orchids, roses, and hydrangeas. To top it off, the raindrops that string from the clouds are Swarovski crystals — and yes, you read that right. The final cost for the arrangements is reportedly a whopping $7,145. (Travis, adopt me. Please.)
The site adds that the party will be Stormi's very first meeting with Scott's family (where Jenner will also reportedly be in attendance), and it's all expected to go down at his mother's home in Missouri City, Texas.
TBH, Scott has every right to splurge on his family. Considering he and Jenner kept their entire pregnancy under wraps, I'm sure it was hard for him to resist the urge to buy maternity or baby gifts for his girls in public.
On Feb. 4, Jenner finally revealed that she'd given birth to their daughter after months of speculation in a post shared to her Twitter page. She wrote,
I'm sorry for keeping you in the dark through all the assumptions. I understand you're used to me bringing you on all my journeys. My pregnancy was one I chose not to do in front of the world. I knew for myself I needed to prepare for this role of a lifetime in the most positive, stress free, and healthy way I knew how. There was no gotcha moment, no big paid reveal I had planned. I knew my baby would feel every stress and every emotion so I chose to do it this way for my little life and our happiness. Pregnancy has been the most beautiful, empowering, and life changing experience I've had in my entire life and I'm actually going to miss it. I appreciate my friends and especially my family for helping me make this special moment as private as we could. My beautiful and healthy baby girl arrived February 1st and I just couldn't wait to share this blessing. I've never felt love and happiness like this I could burst! Thank you for understanding.
After Stormi's birth, Scott sent 443 roses to Jenner because their daughter was born at 4:43 p.m. The lip kit mogul gushed over the arrangements through a picture she posted to Snapchat, writing, "443 from my [heart] a few days ago, the time she was born."
Aww!
He also went all out for Jenner at her birthday party last August. Though it was her sisters who planned the surprise celebration, it was Scott who stole the show. He reportedly surprised her with a private string quartet that played a ton of hits like The Beatles' "Here Comes The Sun." He also gifted her with a giant bouquet of flowers that she posted all over Snapchat, but it was the butterfly chain Scott gifted the reality star that made the celebration so, so sweet. The necklace is a gold choker encrusted with diamonds and what looks to be five diamond-encrusted butterflies. He reportedly spent $60,000 on the chain, which shows that he's down to go above and beyond for the ladies in his life.
His gestures are seriously too cute for words, and I can't wait to see what he does next. Stormi and Jenner are so very lucky.