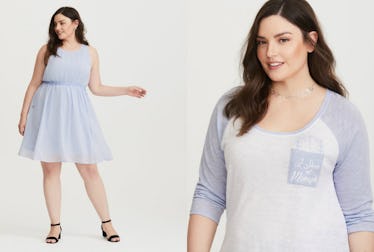 Torrid's Cinderella Collection Is A Disney Princess Dream & It's On Sale Now
Torrid
When I was a chubby, awkward kid, all I wanted was a princess dress from the Disney store. Unfortunately, I was too big to fit into the tiny sizes the store offered. Now, I finally have the chance to live my best Disney princess fantasy thanks to Torrid's Cinderella Collection. The sizes range from 10 to 30, so plus-size queens everywhere can be styled and elegantly as Cinderella herself. Who cares about glass slippers, anymore? If the dress fits, wear it!
Torrid is really throwing down with the entire Cinderella collection. Now you don't need mice and other various woodland creatures to construct a dress that will perfectly fit your body. You can just buy it off the rack. In addition to the pale blue, classic Cinderella gown-inspired dress, you can also purchase leggings, shirts, cardigans, and even more dresses to help you feel royal AF. Finally, my inner child will feel fulfilled.
There's a whole line of Disney princess clothing that I can actually wear and not feel like it's about to be ripped to shreds by my own body rather than evil step sisters. I'll feel so fly, scrubbing floors and sweeping cinders will simply be out of the question. The best part is: the entire collection is on sale right now! You don't need to be a rich b*tch to indulge yourself like the literal queen you are.
The most literal piece in the collection is this blue chiffon dress. Can't you just imagine twirling around your living room, humming "So This Is Love?" The little charms on the bow are even little metal pumpkin carriage. It's so sweet, it would warm the heart of even the wickedest step mother.
If your vibe is more gothic Disney princess, then you're bound to fall in love with this shining, shimmering, splendid black tulle skirt (wrong movie, I know). It even has a gorgeous pumpkin carriage embroidery close to the hem. It simply whispers, "have me home by midnight or all my footmen will turn back to mice and you won't want to see that, I promise."
If you dig a more casual vibe, you can rock this soft and cozy tee that will remind your date that you time is precious. I know it says "I Shine At Midnight," but we all know you really shine until midnight. Good thing this shirt is comfy enough to run in as you speed away from your date as the clock strikes midnight, leaving him confused AF.
If you are planning on making a run for it, then you might want to pair that comfy tee with these athleisure leggings. No need to wait for a fairy godmother to show your date just how magical you are. Simply wear a print that's a spell in motion.
If your goal is to remind the world that you're royalty, then say no more. This gold filigree cardigan is comfy and still shows the peasants who's boss.
If you want to embody the essence of Cindy without declaring "I am a literal Disney princess," then this gorgeous off shoulder tee add the perfect amount of class and eleganza to your look. It even has "Have you seen my glass slipper," embroidered on the trim. Aw! How sweet and subtle.
Reminder, these items are on sale, so snatch yours up now. There's no telling if they'll even last to midnight.