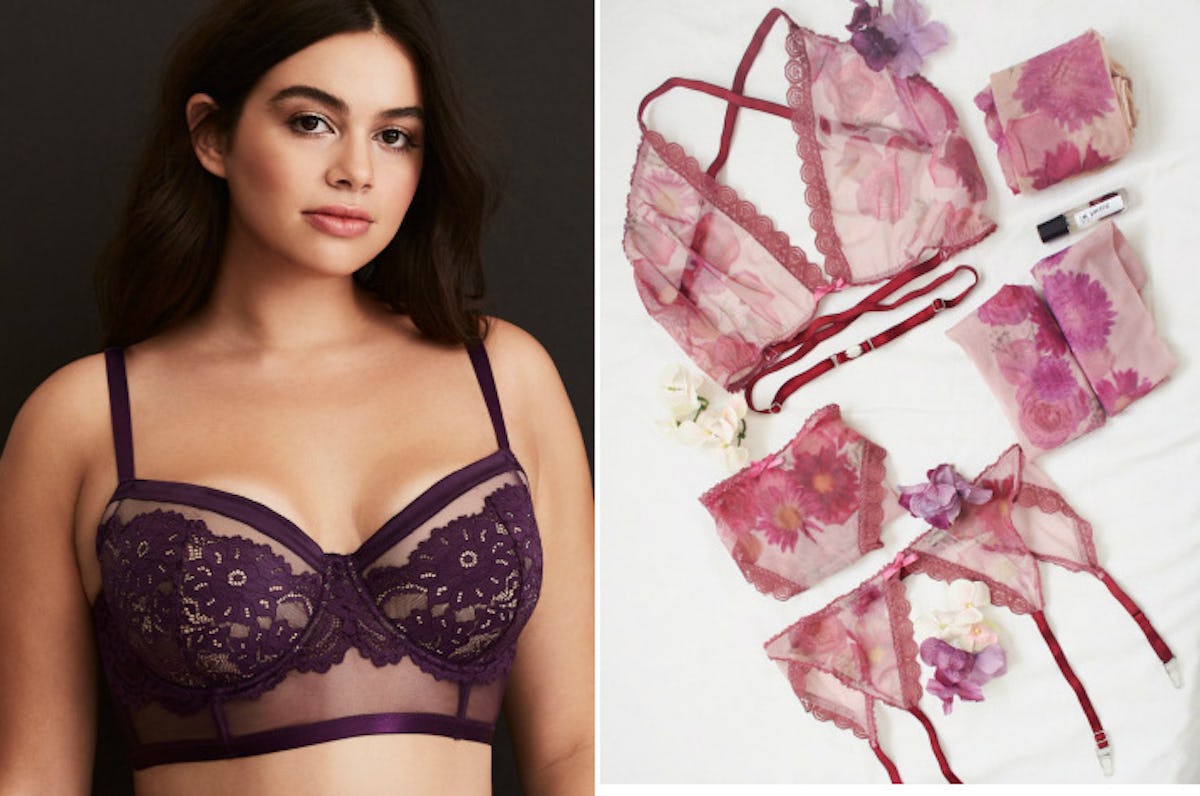 Best Valentine's Day Lingerie For Curvy Women Who Want To Feel Sexy AF
Torrid/Uye Surana
If you're curvy, you know finding smoking hot lingerie is no easy feat. The cute stuff is not designed for our bodies (hello, bralettes) and the functional stuff is not designed to be seen at all (womp womp). If you're on a search for the best Valentine's Day lingerie for curvy women, then look no further, my voluptuous sis. I've complied this list for you, because you have other stuff to worry about this Feb. 14. No stress, no frustration, just 13 sets of ridiculously sexy lingerie for you to shop, purchase, and rock this V-Day. Your body is a masterpiece and you need a frame worthy of the Met, not worthy of Michael's.
Growing up curvy was difficult, dude. Bra shopping brought me to my own personal circle of hell where I was surrounded by images of bodies that looked nowhere near mine and strangled by sizes that were far too small for my ample bosom. If I magically found a bra that fit around my back, it smushed my boobs in half so they looked like four boobs through my shirt (you know what I'm talking about).
As I grew into adulthood, I learned that society is dumb sometimes and my curvy body is rad. Unfortunately, not all brands have learned that lesson yet. Luckily, many, many awesome ones have. So let's put our money where our mouth is and support the lingerie brands that support us (both literally and metaphorically).
Lace & Microfiber Underwire Bodycon Chemise, $33, Torrid
Let's start this list off strong, shall we? This gorgeous chemise will show off the gorgeous body you were blessed with. The dusty lilac color paired with black lace is soft, but sexy, and a great departure from the classic Valentine's day red.
Lash & Mesh Underwire Bralette, $36, Torrid
No need to sacrifice structure for sexiness with this royal purple underwire bralette. It's seriously stunning and will give your more support than your lousy ex ever did.
Lace & Mesh Babydoll, $37, Torrid
If you're more on the modest side, then this subtle, but sexy babydoll is for you.
Ashley Graham Diva Bra with Matching Thong, $70, Addition Elle
Addition Elle's collaboration with Ashley Graham is one of the best things to happen to plus-size lingerie.
Ashley Graham Lace And Striped Diva Demi Cup Bra With Matching Thong,$65, Addition Elle
The pinstripes lend a "you can work from home" vibe. Menswear at its literal finest.
Ashley Graham Diva Lace & Mesh Bra in Smoke and Celeste, $20, Addition Elle
Last one from the Ashley Graham collab, I promise. The bra is perfect for any aspiring mermaid, with its sea-foam green color and scale-like lace pattern. Plus, it's on sale for $20, so you need it right now. Don't forget to purchase the matching panties! They come separately.
Tie Bust Babydoll With Rhinestone Buckle And Marabou, $45, Hips And Curves
What would a Valentine's Day lingerie list be without one semi-tacky red rhinestone and marabou number? It's classic for a reason, people.
Sophie Strappy Back Babydoll, $50, Hips and Curves
I love a good strappy bra, don't you? Plus, the back is super adjustible so you can get the support you need.
Plus Size Green Desires Bustier Set, $32, Yandy
A bustier that fits a plus size body is hard to come by. What a blessing!
Plus size Savoir Faire Teddy Set, $30, Yandy
Added bonus: it's a thong cut so you can let your booty live its best life.
Plus Size Danielle Satin and Lace Teddy, $38, Yandy
This gorgeous Teddy has underwire cups that are sure to hug you instead of strangle you. Also, does this model look familiar to do? It's not just because she's in three of these images. It's also because she's the Instagram queen Tabria Majors who recreated Victoria's Secret ads a while back.
Kimberly Sheer Lace Luxe Lingerie Set In Garnet, $147, Uye Surana
Uye Surana makes all sets to order, so you can plug in your sizing or even order a custom size. At $147 for such intricate bra and panty work, its really a steal.
Flora Mirage 5-Piece Set With Perfume Rollerball, $195, Uye Surana
This five-piece set even comes with a rollerball. Again, it's perfectly fitted to your body. If that isn't a Valentine's Day Dream come true, then I don't know what is.