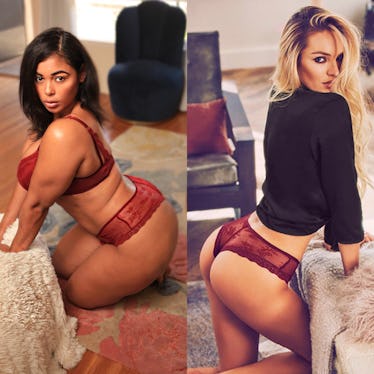 A Curvy Instagram Star Remade These Victoria's Secret Ads & You've Got To See The Photos
Considering the incredible body positivity movement that's been on the uptick within the fashion industry and beyond, it's hard to believe that one of the most influential lingerie brands doesn't celebrate women of all sizes in its campaigns. Victoria's Secret ads still exclusively feature sample-sized women, and TBH, it's a pretty puzzling choice. How amazing would it be if the mega-retailer would publicly demonstrate the belief that curvy women can look sexy in, and even help sell, bras and panties by including them on their billboards or in their television commercials?
Unfortunately, the group of women Victoria's Secret regularly casts in their campaigns, while gorgeous, sets back the progress that many people have worked hard to encourage. So in an epic response to the issue, curvy model Tabria Majors, who is known for her work with Forever 21, decided to take matters into her own hands and recreate some of Victoria's Secret's past ads with her killer body as the star. Unsurprisingly, the photos are stunning. "Just paying homage to a few of my favorite pics/outfits from VS here and showing that curvy girls can rock (and sell) lingerie just as well as straight size models," she explained of the series on Instagram.
Indeed, her photos are on FIRE. Reimagining ads originally starring Jasmine Tookes, Candice Swanepoel, and others, Majors looks every part the (smoking hot) angel she is.
In an interview with HuffPost Canada, Majors said, "I've been thinking about doing this for a while, and the pieces happened to come together...I just want to know why they, and so many other companies, don't cater to the average-sized woman."
Is it just me, or is it INSANE that models like Majors are still having to question why Victoria's Secret is so behind the times in terms of body diversity? As someone who has been an A cup all my life and barely needs a bra (I think I own three and all of them are basically triangles of cloth stitched together), I would think that intimates brands would want to cater towards women who actually need what they have to offer. Right?!
As for why Victoria's Secret and other companies continue to cling to stale, homogenous ideas of what a "sexy" body type entails, Majors provided a few excuses. "The main argument I've heard is that it's expensive, time-consuming, and companies don't have the proper resources to expand their sizes," she says. "I personally don't believe that, primarily because the plus-size industry brings in billions of dollars each year, and the potential profit companies would make should counter any of their hesitations."
I don't believe it, either. And if Victoria's Secret would look at the numbers of their competitors who are casting curvy women in their campaigns, they might be swayed, too. AdWeek reported an outstanding number of business growth in 2016 for companies who decided to highlight body diversity.
"Retailers like Aerie, whose groundbreaking #AerieReal campaign boosted parent company American Eagle Outfitters' growth by 4 percent last year, and Lane Bryant, whose similarly viral (and very provocative) #ImNoAngel and #PlusIsEqual campaigns were credited with same-store sales increases of 6 percent, are proving that promoting new beauty standards can be lucrative."
Whether or not VS follows suit, Majors will continue to challenge antiquated industry norms through her voice and her work. She's currently one of 15 finalists for Sports Illustrated's Swim Search, and recently walked the runway in SI's first branded swimwear show at Miami Swim Week. If she wins the competition, she will be featured in the 2018 Sports Illustrated swimsuit issue.
Victoria, this is no secret: All bodies are sexy, loved and worshipped. I wish you'd join in on expressing to the world that every single woman is a bombshell in her own right, and with the upcoming Victoria's Secret fashion show, there's never a better time than the current moment.