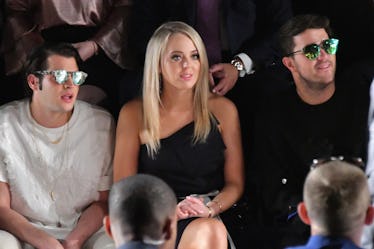 Tiffany Trump Promoted A Fancy Nail Polish On Instagram & It's Raising Questions
Mike Coppola/Getty Images Entertainment/Getty Images
It can't be easy being a social media influencer. Since her father took office, it appears that the youngest first daughter has been trying to keep under the radar to stay away from press publicity. However, Tiffany Trump promoted a fancy nail polish on Instagram on Feb. 27, and it's making people wonder how ethical that really is.
According to The Washington Post, Tiffany Trump posted a photo of gift-set of luxury nail polish from celebrity manicurist Deborah Lippmann on her Instagram story. Along with the photo, Trump added a small "Thanks, Debbie!" as her caption while tagging Lippmann's Instagram. The gift-set featured dozens of nail polish, and for those familiar with Lippmann's product, it's not necessarily a cheap gift, since the asking price for individual polishes are in the $18-$20 range.
Since Tiffany Trump posted that photo to her Instagram story, some have been questioning whether it's ethical for the one of the first daughters to be obviously promoting products on social media. Given their celebrity status, the Trump family are no strangers to gifts and promotions, among other things. However, now that they've entered the White House, things work differently there.
An employee of public office is absolutely prohibited from promoting or endorsing products for a friend, relative, or affiliated person's private gain, according to regulations from the Office of Government Ethics. White House aide Kellyanne Conway found that out when she took major criticism for promoting Ivanka Trump's clothing and handbag line during a Feb. 9, 2017 appearance on FOX News. Conway went on to explicitly urge viewers to buy Ivanka Trump's products. "Go buy Ivanka's stuff, is what I would tell you," Conway said. "I hate shopping, I'm gonna get some myself today." After the appearance, many experts believed that Conway had broken the law, although she didn't appear to suffer any consequences from it.
Compared to Conway's shilling, Tiffany Trump's Instagram promotion isn't quite that earth shattering.
Ethics expert Don Fox spoke to The Washington Post about Tiffany Trump's Instagram promotion, admitting that due to her being a private citizen, she's not bound to the same rules as her father. However, Fox was quick to note that there is a serious double standard when it comes to appearances. "The standards are ones of decorum, not law," Fox said. He pointed out something of a double standard, saying, "Can you imagine the reaction if the Obama daughters had done this, or one of the Bush 43 daughters?" Fox worked in the Office of Government Ethics during the Bush and Obama administrations.
As a reminder, Tiffany Trump, unlike, say, her half-sister Ivanka, is not a White House official. Although she lives in Washington D.C., she is there as a private citizen going to law school, not a member of the official First Family living in the White House and working a political job. Because of this, it's not likely that what she did was explicitly illegal, just a little morally ambiguous given the tradition of the White House.
This isn't the first time Tiffany Trump has rubbed shoulders with a few other marketing connections. On Jan. 20, 2017, Trump gave a shoutout to designer Anne Bowen by posting an Instagram photo of her in one of Bowen's gowns, just before Donald Trump's inaugural dinner.
While there's always never-ending controversy surrounding the Trump family, in this instance there have been a surprising amount of people defending Tiffany Trump's Instagram promotion.
But Tiff's probably got other things on her mind, anyway.
The younger Trump daughter started law school on Aug. 28 at prestigious Georgetown University, and judging from her first day of school Instagram she posted, it looks like she's truly living up to her millennial status as a social media influencer. Tiffany Trump currently has an Instagram following of 958k followers and averages tens of thousands likes her Instagram post. Her father Donald Trump could definitely take some lessons on how to use social media correctly. (Tiffany, if you could be so kind and lend the man some assistance, I'm sure there are lots of individuals who'd be very appreciative.)
So while it's still up in the air as to why exactly Tiffany Trump posted the luxurious nail polish on her Instagram story, it could be her way of letting people know she's getting glammed up following a rumored breakup with boyfriend Ross Mechanic.
According to The Washington Post, Mechanic drew some questions from the public after he posted a photo of him and another woman, named Carly Berns, on Jan. 15. Then, just to amplify the drama, Mechanic reportedly posted a photo of him and Berns kissing on his Instagram story, according to The Daily Mail. Trump and Mechanic started dating in 2015, when they met while both attended UPenn, otherwise known as the University of Pennsylvania.
So if that's the case, Tiffany, you better show up and rock those fabulous nails. Nothing says revenge like a great manicure.