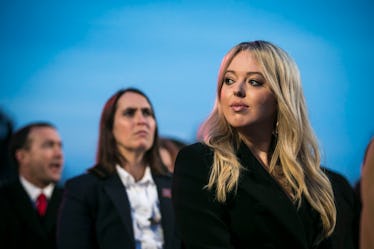 Tiffany Trump May Be Living In A Dorm Room At Georgetown Law & We Need To Know
Pool/Getty Images News/Getty Images
At the age of just 24, it appears that White House daughter Tiffany Trump is already gearing up to have more political knowledge than dear ol' daddy. After beginning her hopeful law career on Aug. 28 at prestigious Georgetown University, the youngest daughter has been keeping social media followers quietly up to date on her day to day activities as a 1L through the occasional Instagram post. However, this begs the question: Is Tiffany Trump living in a dorm room? There might be a slight possibility, and we need to know.
Social media first began questioning this possible scenario following her "first day of school"-esque Instagram post back in August 2017. Hey, did it really happen if you didn't 'gram it? We don't think so.
Keeping up with classic Millennial style, Trump posted a totally aesthetically pleasing photo, nodding to the classic blue and grey Georgetown colors. The photo, which has gained over 32,000 likes on Instagram, shows a spotless glass desk where a stack of law books and a Georgetown Bulldogs cap are proudly displayed. Plus, just to take that aesthetic to the next level, two vases of blue hydrangeas frame the textbooks.
Now that's a strong Instagram game.
Despite the apocalyptic Trump family invasion of Washington D.C., we can't deny that it's pretty impressive Trump is attending Georgetown Law, which is ranked 15th nationally by U.S. & World Report as Best Law School.
According to the Georgetown website, The Gewirz Student Center is the available on-campus housing option for Georgetown Law students, housing 300 students across the world. Amenities include a convenient location, included utilities, free shuttle service, completely furnished bedrooms, and a "social support network" of resident fellows.
You may be Tiffany Trump's resident fellow at Georgetown Law, but her dad is the resident fellow of the entire nation.
Trump definitely already has had her own support network in the form of a costly Secret Service detail. On July 25, 2017 The Independent reported that during Trump's visit to Berlin in mid July, she had a Secret Service detail reportedly costing as much as $22,000. It's unclear how much detail (if any) is with Trump at Georgetown Law, and whether the Secret Service would even be allowed to accompany Trump in campus housing.
There's no mention on the Georgetown Law website of first year law students being required to live on campus. But while the on-housing campus gig sounds like a good deal, it seems pretty unlikely that the youngest lady of the Trump family is spending her days in communal bathrooms and bumping elbows in the dining hall. So, where could she be living?
Real-estate in Washington D.C., especially the Georgetown area, is particularly pricey. According to Zillow, townhouses in the Georgetown neighborhood sell for a range from $1.6m to as high as $7.9m, and rents can go as high as $5,000 a month. Although, that may be chump change to the Trump family, as her dad Donald Trump is reportedly worth $3.1 billion dollars according to a Sep. 2017 study by Forbes.
The Trump family is no stranger to Georgetown University; Eric Trump earned his Bachelor's Degree in Finance and Management from the university in 2006 and currently sits on the board of the Business, Society, and Public Policy Initiative at the McDonough School of Business. Eric Trump told The Daily Mail about how proud he is of his sister attending his alma mater.
"I am so proud of Tiffany," he said. "Georgetown University is a truly amazing school and she is going to love her time in Washington DC."
Perhaps her admission to law school will help bolster some of her dad's pride in her. In an interview with Fox & Friends on Nov. 8, 2016, Donald Trump discussed how proud he is of his children, but not without throwing some awkwardness Tiffany's way.
"I'm very proud of my children. I mean, I'm just looking at them right now, as an example for your show," he said. "But I'm very proud, because Don and Eric and Ivanka and, you know, to a lesser extent 'cause she just got out of school, out of college, but, uh, Tiffany, who has also been so terrific."
Thanks dad.
Trump's decision to attend law school has led to some serious criticism from various law students. Maria Kari, whose admission to Georgetown Law actually makes her Trump's classmate, wrote an open letter to Tiffany Trump via Teen Vogue, addressing their upcoming first day in law school as well as her fear of the current presidential administration. Kari wrote,
Tiffany, let me tell you: I feel absolutely terrified. I am terrified by the new president's disdain for legal standards and factual analysis. I am terrified by the current administration's decision to defund and discredit laws and institutions that were put into place by this country's founding fathers to promote dignity, tolerance, and equality for all. I am terrified by the constant dialogue of hate, fear-mongering, and psychological gaslighting that is infecting the body of the people.
Regardless of the neighborhood, or even dorm room, Trump may be residing in at the moment, it's sure to be as aesthetically strong as that Instagram post. Slay that first year Tiffany.