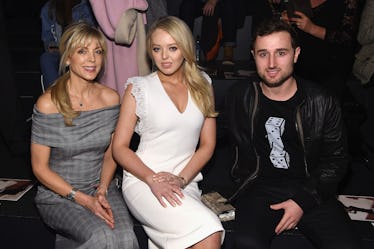 People Think Tiffany Trump Is Single Again Because Of These Social Media Signs
Jamie McCarthy/Getty Images Entertainment/Getty Images
There have been several dramatic changes in Tiffany Trump's life over the past two years. There's the obvious fact that her father won the presidency, and then there's the 24-year-old's enrollment at Georgetown Law School, which meant moving closer to the first family, in Washington D.C. Now, a few signs on social media made it worth asking whether another dramatic change has occurred: Did Tiffany Trump and her boyfriend break up?
It sure does look that way.
Among the four photos that Trump's (former?) boyfriend Ross Mechanic has posted on Instagram since November, none have been liked by Trump, per a very serious forensic analysis of the pair's recent lack of interaction on social media by The Washington Post.
That fact is just an appetizer. The real meat and potatoes of the situation involves another woman.
According to The Post, Mechanic drew questions about whether he and Trump had broken up after he posted a picture of himself and another woman named Carly Berns on Jan. 15. The picture featured Mechanic and Berns at the Museum of Modern Art in Manhattan.
A month later, on Valentine's Day, Mechanic shared another photo of himself and Berns, on his Instagram story. This time, Mechanic and Berns were kissing, according The Daily Mail. Around the same time, Mechanic posted a second picture of himself and Berns onto his main feed, featuring the pair together at the Museum of Modern Art again, according to The Post, which also noted that Mechanic's Instagram has been private since September.
Tiffany Trump, for her part, has not posted a photo featuring Mechanic since July 13, when both were on a summer tour of Europe. During her most recent travels, though, Trump has not posted any pictures or photos that feature Mechanic.
When the 24-year-old celebrated New Year's at the Playboy Mansion, Mechanic was not among the friends photographed in pictures that featured Trump. The same goes for when Trump spent a weekend in Las Vegas, where she very randomly served as a flower girl during an impromptu wedding.
Who is Ross Mechanic?
Mechanic and Trump began dating in 2015, according to The Washington Post. At the time, both attended the University of Pennsylvania, the Ivy League institution more commonly known as "UPenn."
Mechanic studied computer science at UPenn and graduated last spring; Trump had graduated from the school a year earlier and took a gap year before starting her post-grad studies at Georgetown Law School.
Both Mechanic and Trump were born into wealthy New York City families. Ross Mechanic is the son of 64-year-old lawyer Jon Mechanic, who is a partner at Manhattan's Fried Frank law firm. The elder Mechanic is chairman of the law firm's department of real estate, the industry in which the Trump family has made much of its fortune.
At the time that Trump moved to Washington D.C. to attend Georgetown, it was unclear whether Mechanic would be joining her. Now, however, there's little confusion. On Saturday, Feb. 24, Trump took shared multiple photos of her experience attending a hockey game in D.C., between the Washington Capitals and the Buffalo Sabres, on her Instagram story.
Afterwards, she shared a picture of herself and Sabres players Evander Kane and Robin Lehner, with Mechanic nowhere to be found.
A handful of her most recent Instagram stories, especially since starting up a new semester at law school, have been late night snaps appearing to show lots of hard work and studying. Overnight into Tuesday, Feb. 27, she posted a picture of her appearing to do some mindful coloring at 5:30 in the morning.
Meanwhile, Mechanic has been in New York, according to The Daily Mail, posting photo after photo of himself and Berns together at multiple locations around the city, including the picture of the two kissing on Valentine's Day and another of them hugging each other on an elevator.
In other words, Mechanic and Berns are as "Instagram official" as you'll get, which means he and Trump are in all likelihood over with.