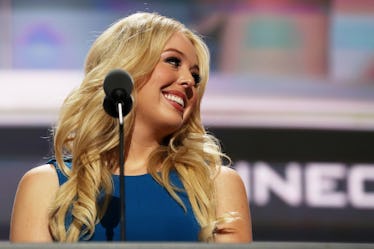 Tiffany Trump Was The Flower Girl At A Vegas Wedding & It Looks As Good As It Sounds
Joe Raedle/Getty Images News/Getty Images
Over the holiday weekend, Tiffany Trump was at the center of a story that would be too good to be true, except for the fact that videos show it definitely is. President Donald Trump's second daughter played a special part in a small, "unconventional" wedding in Las Vegas, where her two of her friends got married. To put it simply, the video of Tiffany Trump serving as a flower girl in Vegas is a must-watch.
The video was posted by Peter Brant tJr., a New York City socialite, son of a billionaire a businessman, and friend of Trump (birds of a feathers, and all that). The video showed the 24-year-old Trump smiling as she walked down a short aisle in a casual black dress dropping rose petals from what appears to be a Tiffany's gift bag.
Brant posted the video on Instagram with a caption that read, "Married off two of my oldest friends so much love for you both and so happy to have been here for this most classic of shotgun weddings! Wishing you both all the happiness in the world."
The groom of the wedding was Peter Carey Peterson, who stared on NYC Prep, a reality show that enjoyed one season and followed the lives of six rich kids living in the big city. If you're wondering, the show aired on (where else?) Bravo. The bride was Esme Brown, the daughter of a deceased New York real estate developer, The New York Post reports.
Married, But "Not Romantically Involved"
In two separate Instagram posts, the bride did some explaining about the decision she and Peterson made.
"Unconventional, yet unconditional," Brown wrote. "Married to my best friend. My soulmate. The person who never turned his back on me and vice versa. We have one life. Free yourself! P.S. We have never had sex. It's pure friendship."
In a subsequent post, Brown also explained that, despite the marriage, she and Peterson are not actually romantically involved.
"Peter and I are not romantically involved - in fact we are still dating others and will continue to seek love in all forms - we are just each other's hearts and wish to begin our journey towards evolution, because the more we face reality, the more we can see that there is no right or wrong."
Peterson, for his part, also cleared the air about how he and Brown came to the decision to have an impromptu wedding.
"Was this spur of the moment? Yes," Peterson wrote in his own Instagram post. "But we have talked about this for ten years. Esme and I have never been romantically involved. We will continue to date others and live our lives. I understand many people will not understand or agree with this, but Esme and I have taken a progressive step towards what we believe marriage should be."
Trump's Weekend In Vegas
Trump's role as a flower goal was merely part of what appears to have been an eventful holiday weekend in Vegas for the first family member. According to The New York Post, Trump was in Sin City for the birthday of another New York City socialite, Andrew Warren. Other kids of the rich and famous — like E.J. Johnson, son of basketball star and executive Magic Johnson — were in Vegas for the same reason, The Post says.
On his Instagram page, Brant posted numerous photos that capture highlights from the weekend with Trump, including the pair partying at LAVO night club.
Moral of the story? Clearly, Tiffany Trump knows a certain way of doing holiday weekends (and how to moonlight as a flower girl).