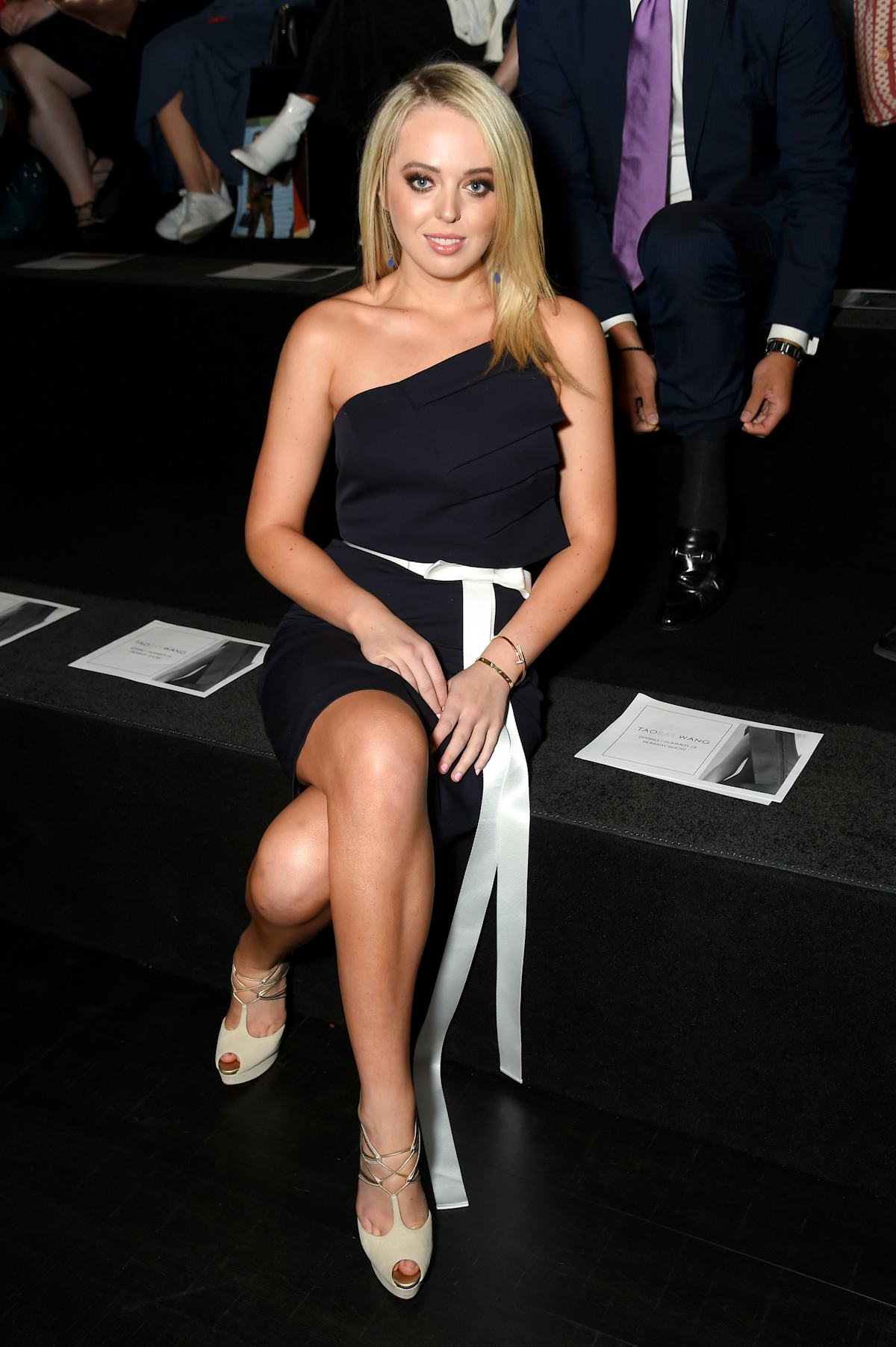 Tiffany Trump Apparently Played This Anti-Trump Card Game & It Doesn't Make Sense
Nicholas Hunt/Getty Images Entertainment/Getty Images
The Trump family tends to portray themselves as a tight-knit and supportive unit. So when one of President Donald Trump's kids appears to dissent from him, people tend to take notice. I came across once such instance of apparent dissent on Tiffany Trump's Instagram, where she posted pictures of a party game that I don't think her father would approve of. Tiffany Trump apparently played Trumped Up Cards and I don't exactly know what to make of it.
UPDATE: Trumped Up Cards tells Elite Daily, "We've always considered Tiffany the crown jewel in President Trump's beautiful portfolio of children, and are delighted to see her enjoying Trumped Up Cards."
EARLIER: Trump posted some pictures and videos to her Insta story, where she appeared to be hanging out with a friend at bar or restaurant of sorts. She posted the story in the early hours of Tuesday, May 22, and they indicate that they were taken on May 20. I assume that it's the type of place that features a collection of fun board and card games to play during your stay. But the game that Trump decided to pick up and share with her followers was definitely a questionable choice, to say the least.
Trumped Up Cards is a card game that's meant to poke fun at the president. The company's website describes the game as follows,
A reality TV star in the White House? If you're ready to laugh liberally in the wake of this unpresidented outcome, then grab a copy of what many people are calling the World's Biggest Deck. Trumped Up Cards is a satirical card game where reality collides with alternative facts and everyone wins! (Except the haters and the losers.)
Elite Daily reached out to Trumped Up Cards for comment on the young Trump picking up the game, but did not hear back at time of publication.
If you haven't guessed it by now, this game is obviously meant to slyly criticize the president — and it sounds like a great time. But it didn't exactly make sense to spot the game on Trump's Insta stories. Why was she seemingly playing a game that pokes fun at her dad, and why would she post it to one of her public social media pages? I have so many questions.
Trumped Up Cards sounds like card game akin to Cards Against Humanity. There are two sets of cards: one set features a series of prompts (like questions, fill in the blank phrases, etc.), and the other has answers to those prompts. The player with the funniest answer wins the card, and the player with the most cards at the end of the game wins.
Much like Cards Against Humanity, this Donald Trump version of the game has a selection of hilarious expansion packs to add onto the original game. There's an "Alternative Facts" pack, a "Astonishingly Excellent Wealthcare" one, and a "Many Sides" pack available for purchase. Overall, the concept of this game is genius.
But back to my speculative inquiry as to why Tiffany Trump would be playing this. Was this post an attempt to shade her dad, or was she just getting in on the joke for fun? Her father-daughter relationship hasn't exactly been portrayed in the best light, and now that she's been thrust into the spotlight more than ever before as a newly minted first daughter, that relationship is under a constant microscope.
Take this quote from the president, for example. On Election Day in 2016, Donald Trump said,
But I'm very proud, because Don and Eric and Ivanka and — you know, to a lesser extent 'cause she just got out of school, out of college — but, uh, Tiffany, who has also been so terrific. They work so hard.
Ouch.
This isn't the first time Tiffany Trump has confused social media users with a move that I'm not sure President Trump would approve of. In March, Tiffany Trump liked an Instagram post from the March For Our Lives that featured a sign reading, "Next Massacre Will Be the GOP in the Midterm Elections." Since then, though, she's appeared by her father's side at White House events.
Is Trump's relationship with her dad on the rocks — or was this just an innocent laughing-at-myself moment that I shouldn't be reading into this much? In any case, I'd like to thank Trump and her Insta story for bringing this new game to my attention. I'm definitely going to be ordering it ASAP.