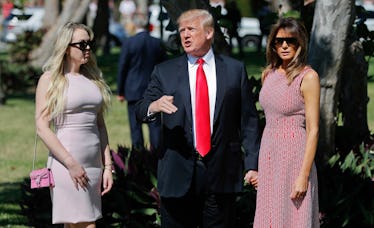 Experts Analyze What Tiffany, Melania, & Donald Trump's Body Language Meant On Easter
Pablo Martinez Monsivais/AP/REX/Shutterstock
The first family gathered together to celebrate Easter on Sunday, April 1, and it was a fascinating cast of characters. President Donald Trump and his wife Melania attended Easter mass at a Florida church, and they were joined by a somewhat unexpected guest: his younger daughter, Tiffany. Tiffany, Melania, and Donald Trump's body language on Easter reveals more insights on the dynamics between Trump and his daughter.
Tiffany, 24, is a student at Georgetown Law School in Washington D.C. She spent most of her childhood in California with her mother, Marla Maples, and though she's now physically closer to her father, she still seems to remain at arm's length, according to People, at least compared with her older half-siblings. And this father-daughter relationship has certainly seen its fair share of ups and downs.
I spoke with body language experts Patti Wood and Traci Brown about what Sunday's rare interaction between father and daughter tell us about their overall relationship.
Both experts noticed what happened when Tiffany arrived to greet her father and step-mother at church, at around 34 seconds into the video below. Right off the bat, some things stands out. "Tiffany and Melania seem to know and like each other; they're glad that the other one's there," Brown says. And Tiffany makes a show of acknowledging her.
"To me what's dramatic is that Tiffany immediately leans in and gives an air kiss to Melania," Wood says. "She goes to a lot of effort to do that." But the effort doesn't seem to get reciprocated, at least from the man standing between them.
Trump, notably, doesn't address Tiffany when she comes and stands next to him. At the time, Trump was busy speaking to the press. Still, "I would think he could acknowledge that she showed up, but he doesn't really do that," Brown says of the interaction. "I think a regular human being would probably acknowledge when someone else showed up to walk into a church together. He doesn't acknowledge her after he's done speaking. He just blows her off."
Wood also acknowledges that Trump was busy speaking at the time, but finds it odd that he didn't address his daughter after he'd finished speaking, around time 1:05 in the above video.
"That may be nothing, but to me that's interesting if they haven't been filmed together a lot that he didn't want to acknowledge her," Wood says. "What's interesting, too, is that she's trying to stand closer to her dad but he's gesturing. And he doesn't wait for her. He walks right in."
And in fact, as Trump finishes his remarks to the press, Melania and Trump turn to go inside the church, leaving Tiffany a few paces behind. While Trump did wait for Melania before entering the church, Wood says, "He didn't show his daughter the same courtesy."
Tiffany, Wood says, clearly wants her father to acknowledge her.
It wasn't the first time the elder Trump has been less than receptive towards his daughter. In fact, just last week, Tiffany accompanied her older sister Ivanka while she and the president were in Ohio touting Trump's infrastructure plan. During his speech, Trump made only a passing mention of Tiffany, while praising Ivanka. (Body language expert Dr. Lillian Glass said of it: "It's obvious that [Donald's] negative feelings towards Tiffany's mother has leaked over to Tiffany, as she is clearly not his favorite.")
Per tradition, Tiffany spent the Easter weekend with her father and his wife, along with their 12-year-old son Barron, at their Mar-a-Lago resort in Florida. (Tiffany has often spent her spring break with her father at his Palm Beach golf club.) But this year entailed more than the usual vacation visit for her. After attending mass with them on Sunday, she doubled down and made an appearance with them at the White House on Monday for the annual Easter Egg Roll.