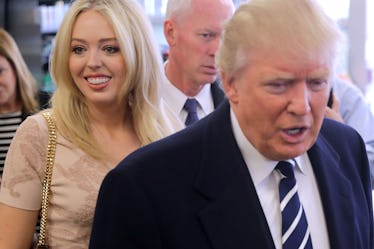 A Look At Tiffany Trump's Relationship With Her Father Shows A Rocky History
Chip Somodevilla/Getty Images News/Getty Images
While some of the Trump children are front and center in their dad's administration, others have been more elusive figures. When it comes to matters of the White House, President Donald Trump's second daughter, 24-year-old Georgetown Law student Tiffany Trump, has largely remained out of the spotlight. The reality is that Tiffany and Donald Trump's relationship has had ups and downs, and it's played out in public life.
Tiffany Trump is the president's younger daughter and second youngest child overall, his only child with second wife Marla Maples. While Tiffany's older half-siblings — Don Jr., Eric, and Ivanka Trump — were relatively prominent in Trump's 2016 presidential campaign, Tiffany mostly kept to the background. It wasn't until the Republican National Convention in 2016 that the country got its first real sense of Tiffany. In the speech from the youngest Trump daughter, she painted her relationship with her father as warm, though she was light on the details.
"My dad is a natural-born encourager, the last person who will ever tell you to lower your sights up give up your dreams. I always looked forward to introducing him to my friends, especially the ones with preconceived notions, because they meet a man with natural charm and no facade," the recent college grad said in the Cleveland arena.
But Tiffany and her father's relationship hasn't always been one with "natural charm." After her parents split in 1997, Tiffany grew up across the country in California while her dad stayed on the East Coast, according to Vanity Fair.
"I don't know what it's like to have a typical father figure," she told Business Insider in 2015.
Growing up in Calabasas (which is known for it's other reality TV family, the Kardashians), Tiffany was pretty much brought up by her mom. "I had the blessing of raising her pretty much on my own," Maples told The New York Times in a 2016 profile.
Maples and Donald Trump's divorce when Tiffany was just three years old made the cover of gossip rags, but really the relationship was fodder for the tabloids from the beginning. Maples had been the other woman when Trump was married to his first wife, Ivana Trump.
But before the time of The Apprentice and Donald Trump's ascent to the White House, the Trump name was relatively unknown on the West Coast. This afforded Tiffany relative privacy compared with her siblings in the Big Apple, the Times details.
While Ivanka was touted as Donald's cherished daughter in the press, Tiffany took more of a back seat to her older sister and three brothers, for better or worse. The New York Times once called her the "B-list Trump."
"I imagine Tiffany didn't get to enjoy the same surprises, just by virtue of lack of proximity," Ivanka wrote in her first book The Trump Card: Playing to Win in Work and Life.
Though Tiffany grew up with a lower profile than her sister, who's 12 years her senior, she's certainly followed in her footsteps. Tiffany graduated from the University of Pennsylvania in 2016 and at the time was dating the son of a real estate attorney.
"Tiffany is a tremendous young woman with a big and beautiful heart," Donald Trump emailed the Times in 2016. "She was always a great student and a very popular person no matter where she went. I am incredibly proud of Tiffany and how well she has done."
As the Trumps went on the campaign trail in in 2016, Tiffany remained in the background, save for her big appearance at the RNC. Even then, Maples said that her daughter wanted to spend more time with Trump.
"She'd like to get to know her father better and spend time with him like his other children did: by going to his office and watching him work," Maples told The New York Times. "Only now, he's not in the office anymore. He's on the campaign trail."
If it seems like Tiffany's entry into public life has been controlled, it's because it has. When the Times profiled her on the campaign trail, they weren't actually allowed to interview Tiffany herself. Instead the campaign provided the publication with a list of sources they could interview about her.
Since Trump entered the White House, Tiffany has continued to take a back seat compared with her siblings. She's appeared at official events like the White House Easter Egg Roll and Turkey Pardon, but has remained out of spotlight — except for her appearances at fashion shows and her presence with wealthy friends on Instagram.
She's not too far from the family, though.
This fall she started her first year at the law school at Georgetown University, in Washington DC. While she's evaded the many controversies that have consumed her father and the rest of her family — sexual misconduct allegations, an investigation in collusion with Russia, and the president's Twitter habit — not everyone was happy with her decision to go to the school. A classmate penned an open letter in Teen Vogue in June challenging Trump on her father's policies and attitudes.
Though Tiffany's relationship with her dad might have been at a distance, she's still a Trump in the end.